Metroline's vehicles in 13 fatal collisions since 2014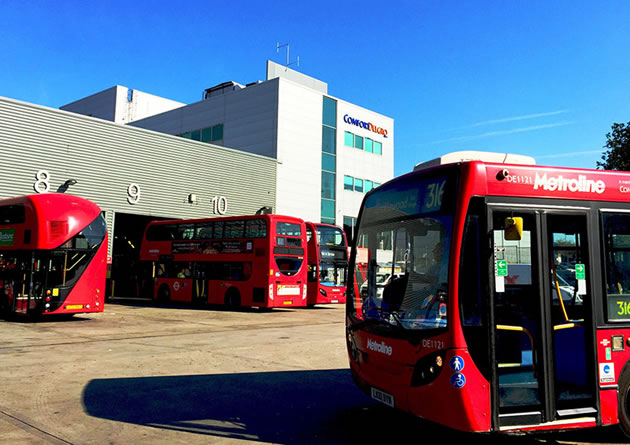 A bus company that operates a number of garages and routes in the Ealing area has been involved in more fatal collisions that any other since 2014.
Thirteen people have been killed in collisions involving vehicles from the Metroline Group according to a new study by GMB London of official data from Transport for London (TFL) for injuries arising from collisions by outsourced bus operators. They also top the table for the total number of injuries arising from collisions.
2.7 people per day have been injured in TFL bus collisions and of those an average of 4.3 people have been killed or seriously injured every week over five years says GMB London
in London shows that in the 5 years since 2014 a total of 4,942 people have been injured, of which 49 were killed and 1,068 were taken to hospital.
This has led GMB to call on the Mayor of London Sadiq Khan to implement a London Bus Drivers 'Bill of Rights' and amend bus operator's contracts to protect both drivers and pedestrians from bus collisions.
The study shows the number of collisions caused by each of the 24 bus operators contracted by TfL to service London's many bus routes.
GMB London Region is campaigning for the safe operation of TfL buses in London. This follows a resolution on bus safety and the public carried at the GMB Congress last year.
Tom Kearney, Founder of #LondonBusWatch and TfL Bus Crash Survivor. He says he nearly died when he was hit by a bendy bus on Oxford Street in 2009 and spent nearly three weeks in a coma.
He added, "I have campaigned over these years for a safer public bus system and that can only happen when Bus Driver working conditions are improved AND TfL and its for-profit Bus Contractors are compelled to be transparent about and accountable for the operational safety performance of London's surface transport fleet."
Steve Garelick, GMB Regional Organiser said:"The safe operation of buses by the outsourced operators must be made TfL's top priority. We have to see an end to the current position on the endless toll of people killed and injured due to bus collisions.
"Sadiq Khan has to get a grip on the problem he inherited from the past managers who designed the outsourced killing machine that TfL presides over. Nothing less than fundamental reform of the Bus System's contract performance incentives to include safety is acceptable."
A spokesperson for Metroline said, 'As London's biggest individual bus operator, Metroline is fully supportive of the Mayor's Vision Zero challenge on eradicating injuries on or by buses. The statistics provided by TfL are supplied irrespective of blame and our Transport Safety Team uses this information to understand the root causes of such incidents. We remain absolutely committed to delivering Vision Zero and providing the safest service possible."
Metroline has 14 garages across London including Greenford, Brentford and two in Perivale. They also have a purpose-built state of the art engineering facility in West Perivale. They currently operates 99 routes, mostly for London Buses and have a fleet 1682 buses.
Perivale West garage operates routes 7, 31, 90, 120, 395, 24-hour route 297, night routes N7 and N31 and school route 611. Perivale East garage operates routes 7 and 245. Greenford garage operates routes 92, 95, 282, 482, 607 and E6. The Brentford garage operates routes 117, 190, 209, 235, 237, E2 and E8, and school route 609.
The union and LondonBusWatch are calling for a bus drivers' Bill of Rights to be adopted by the bus operators and its implementation closely monitored by TfL
See below for full table listing the number of injuries and types of injuries reported between 2014 and 2018 for 24 bus companies outsourced by TfL, as well as pre-tax profit during the same period and total injuries per £1million made in profit.
Company
Fatal
Injuries requiring hospital attendance
Injuries treated on scene
Taken to Hospital – Reported Serious Injury or Severity Unknown
Total Injuries arising from collisions
Pre-tax profits (£millions unless stated)
Total injuries from collisions per £million in profit
Metroline
7
7
376
132
635
NA
NA
Arriva London North
7
21
405
152
627

80.8

7.76

East London
5
8
401
105
597

19.7

30.27

London General
4
17
213
111
441

203.4

2.17

London United
6
19
253
75
424

24.1

17.58

Selkent
2
17
263
51
394

52.7

7.47

Arriva London South
2
30
228
96
381

-3.4

London Central*
5
14
136
76
296

NA*

NA

Abellio London
1
12
115
61
236

17.1

13.82

Metroline West
6
3
128
47
224

NA

NA

Metrobus*
2
9
102
58
189

NA*

NA

Tower Transit
1
5
76
19
151

NA

NA

Arriva The Shires
1
3
41
15
65

NA

NA

Blue Triangle Buses*
5
15
20
65

NA*

NA

London Sovereign
1
20
4
44

6.3

6.99

Abellio West
1
18
5
33

4.3

7.67

Arriva Kent Thameside
4
15
11
33

NA

NA

Docklands Buses*
7
14
28

NA*

NA

Quality Line
15
7
22

6.3

NA

C T Plus
12
4
20

NA

NA

H R Richmond
1
13
1
16

NA

NA

TGM Group
8
4
12

NA

NA

Metroline Travel
8
8

NA

NA

Sullivan Bus & Coach
1
1

NA

NA

Total
49
185
2861
1068
4942

291.4

*Part of Go Ahead group of which London General is key subsidiary. Company forms part of the profits for London General.
April 17, 2019