Copley estate locals will have free membership to a new Brompton scheme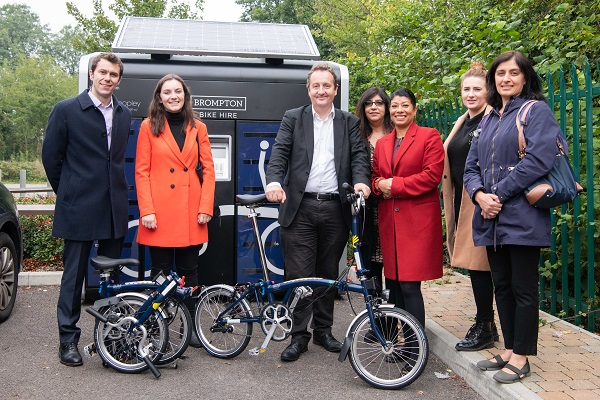 Social and affordable housing tenants at the new Copley estate in Hanwell are being given the chance to take part in a new scheme from Brompton Bike Hire.
These residents will get a free premium membership, allowing them to hire a bike for £3.50 a day, without having to pay the annual fee.
Bromptom Bike Hire said that compared to the lowest price of a Zone 3 travelcard – £8.20 – the cost of a day's hire is significantly less than using public transport to head into central London.
Brompton is also planning to support the community with regular cycling experience days held at Copley Close to provide the residents with the confidence to start riding.
Brompton Bike Hire's director Julian Scriven said: "Cycling is often incorrectly perceived as a middle-class hobby, rather than what it is; an inexpensive, accessible and environmentally responsible method of travel.
"One of the barriers to entry to cycling is the economic outlay of the bike, so we are pleased to offer this service to those considering a bicycle for the first time, and are perhaps put off by initial cost."
"We would like to invite Local Authorities to reach out to use to deliver similar or even more ambitious projects. To genuinely create a modal shift away from cars and toward cycling, we need to make cycling accessible to all."
With the introduction of new docks this summer, like the location in Ealing, the bike hire service will now be in more than 50 locations.
Unlike bike 'share' services, the emphasis with Brompton Bike Hire is day-long hires.
Ealing Council leader, Julian Bell, said: "I'm delighted to be welcoming Brompton Bike Hire to the Copley Estate and to continuing our commitment to making cycling accessible to all.
"We believe this initiative will encourage the growth of cycling in the area and bring noticeable benefits to the local community, such as improving air quality and tackling climate change by influencing our residents to use sustainable modes of transport."
Ged Cann - Local Democracy Reporter
8 October 2019