Call for commuters to get on board and sign the petition
Ealing's Labour group say commuters shouldn't have to wait any longer before a lift is installed at Ealing Broadway Station.

The central transport hub is one of the busiest in the capital, but has has no escalators or lifts and commuters struggle on a daily basis.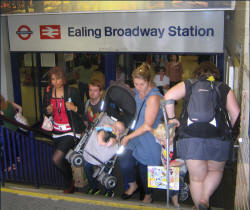 The station will be redeveloped, including new lifts, as part of Crossrail plans but building work is unlikely to start before May 2018.
Ealing Cabinet member for Environment & Transport Bassam Mahfouz is negotiating with Network Rail which run the station and Crossrail to help fund the work. He says commuters have waited too long:
"It's the second busiest station outside of zone one, we can't wait another seven years for a lift.
"Ealing Labour want commuters to join our campaign to show our partners it would be delivering what residents want."
''Sign the petition ''
The Labour group campaign is the third to focus on Ealing Broadway Station .
The Liberal Democrats are calling for a transport interchange and have launched a a petition and Save Ealing Centre (SEC) have launched another calling for the council to ensure it makes the most of Crossrail.
22nd July 2011