Ealing conservation area is in national competition

An Ealing conservation area is one of only two in London to have been put forward to the final of a national competition.
Civic Voice - the national charity for the civic and conservation movement – has introduced an award for the Nation's Favourite Conservation Area.
The Brentham Garden Suburb has imade it to the national shortlist of 18 from an initial 249 nominations.
Laura Sandys, Vice-president of Civic Voice said, 'We have over 10,000 conservation areas in England which reflect the rich built heritage of the nation. As well as encouraging people to nominate and vote, we want to raise awareness of the importance of our conservation areas and call on more communities to celebrate, our rich and varied heritage .
'' With 249 conservation areas being nominated, it shows that people are proud of where they live. These 18 conservation areas have been selected by Civic Voice to ensure that as wide a range of conservation areas were as shortlisted as possible. What the shortlist shows us is that conservation areas are real places loved by real people.
'The winner will be announced at the Civic Voice conference in October and we will be awarding a trophy and certificate to the winning conservation area. I look forward to seeing what is named "England's Favourite Conservation Area.'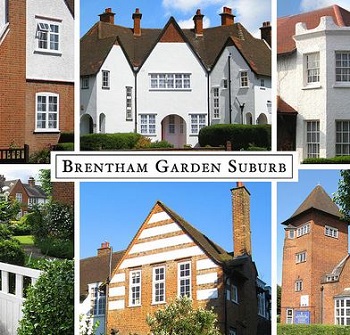 Read all about Brentham Garden Suburb here.
The competition is open to a public vote ( closes 16th October) click on the Brentham Garden Suburb image and then select the heart above it here.
October 11th 2018