New boxing club opens its doors in W7
A new boxing club has opened its doors in Hanwell after a £260,000 refurbishment.
The premises in Wildbury Close had been out of use for ten years before the Hanwell School of Boxing, a voluntary organisation, moved into the building in 2007. Since then the club has been awarded £120,000 by Ealing Council, £90,000 by Sport England and £50,000 by London Marathon Trust and a few smaller grants to build a brand new sport facility.
The new boxing club has changing rooms, office, kitchen and main sports training area. Structural work has also taken place to create a new lower roof, utilising solar panels to provide better water and heating for the whole building.
Councillor Julian Bell, leader of the council, said: "The club house is an absolute knock out and it's great to see so many young people already taking part. We are totally committed to promoting the benefits of sport and a healthy lifestyle and this is another great example of some great facilities which are being built as part of the borough's Olympic legacy. We wish the club and its members all the best in their new home and look forward to seeing some great results – we might even find the next Amir Khan in Hanwell."
Northfield Councillor David Millican: "It was great to attend the opening of the brand new Hanwell Boxing Club. As Northfield Councillors we have worked hard with the Boxing Club to support this every step of the way. The previous building was so cold in winter that they could barely train."

Fellow Northfield Councillor Mark Reen at the same opening said: "This is a fantastic facility that everyone in the community is very proud of. The funding was initiated by the previous Conservative Council under the same youth funding scheme that has brought in the highly successful skate park. The ward councillors supported the bids with London Marathon and Sport England, to ensure all the money was there."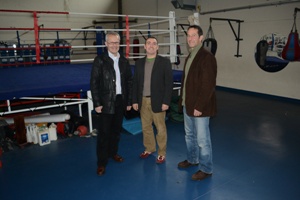 22nd February 2012