Arrests made in anti-social behaviour crackdown in North Ealing
Related Links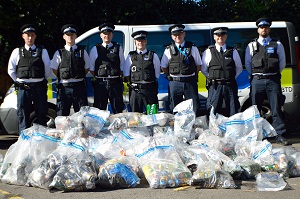 Inspector Dominic Lemonde, PS Liam Cahill and the Greenford Broadway Local Policing Team with the seized alcohol.
Participate
Sign up for our weekly Ealing newsletter
Comment on this story on the
A operation to tackle alcohol-related anti-social behaviour in the Greenford area has been declared a success.

Operation Bottle Top was launched in July by the Greenford cluster, which includes Greenford Broadway, Greenford Green, North Greenford, Northolt West End, Northolt Mandeville and Perivale wards, after residents complained about large groups congregating and feeling intimidated by street drinkers using bad language and urinating in the street.

All the teams in the cluster came together to pool resources, enabling them to conduct patrols every day across all the Greenford wards at the times when most complaints had been made.

Over the last few months, police have been out stopping street drinkers and seizing their alcohol. Officers have seized in excess of 700 cans/bottles of alcohol, conducted more than 300 stop and accounts and as a result of targeting outdoor drinking hotspots, have made 16 arrests including three for burglary, one for grievous bodily harm and several for possession of drugs with intent to supply.

Officers have also been working in partnership with the Community Payback Team, Amey (Ealing Council street cleaners) to clean the area and have cleared an outdoor drinking camp on Ruislip Road East twice in the last two months, removing around 20 bags of rubbish.

Although Operation Bottle Top officially finishes on Wednesday, 30 September officers will still be out on patrol and will continue to deal with anti-social outdoor drinkers.

However as the nights draw in, the teams will be focusing more on burglary which traditionally spikes in the months leading up to Christmas. Residents are therefore reminded that the dedicated telephone number for Operation Bottle Top will no longer be operational and that any calls regarding anti-social outdoor drinking should be made either to the local ward telephone numbers which can be found at http://content.met.police.uk/Page/YourBorough or through 101.

Inspector Dominic Lemonde in charge of Greenford cluster said: "The operation was initiated as a direct response to the concerns raised by local residents about the anti-social behaviour created by outdoor street drinkers. Officers from across the Greenford Safer Neighbourhood Teams have been working on the issue every day since 10 July.

"We will still deal with outdoor drinking but in the lead-up to Christmas we often see a rise in burglary and a reduction in street drinking due to the drop in temperature. We have therefore established a similar patrol strategy to tackle burglaries in the coming months. Residents can help maintain the low rates of burglary we have seen across Greenford for the past nine months by remembering to secure their properties by locking doors and windows."

Greenford Broadway ward are continuing to liaise with The Safer Communities Team at Ealing Council who are in the process of considering injunctions against three outdoor drinkers who have consistently exhibited anti-social behaviour. A full breakdown of the results of Operation Bottle Top can be found on the Greenford Broadway Twitter account @MPSGreenford.
30th September 2015