Updates on techno rave, Silent Witness and sports day planned this Sunday
The techno music event (June) has been and gone. There was minor disruption to park users (particularly dog walkers) leading up to the event. Apart from complaints from residents who ended up with urinals in view of their front windows along Boston Manor Road the event, oh and the highways scaffolding alarm that continued for two days from under the flyover, went fairly smoothly. Some damage was inevitable to the football pitches which Carillion are due to rectify but currently the Spartans football team are very nervous as it is not long until their new season in September and, at this time in writing, work has not started. The wet weather has been blamed for the delays!
The Friends gratefully received a £1,565.55 donation from the organisers Junction 2 to spend within the park. GlaxoSmithkline kindly updated our CCTV system which makes us all feel much more secure – such good neighbours and thanks also go to Boston Manor Residents' Association for their donation to pay for a picnic bench which will be installed soon.
Filming of Silent Witness returned to the park this week. Something to do with a cherry-picker and a mattress!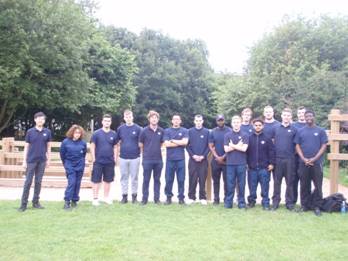 We have already started our various summer volunteer programmes. Thanks go to Chris Murphy, a Brentford resident, who enabled us to engage with TFL apprentices. This week they have been helping install an orienteering course, passionately designed by Don from South London Orienteers. The maps will be tweeked over the next few days and then three courses will be available to be tried and tested. They have also rubbed down and painted around 18 park benches to set us up for the years to come. A really nice bunch of people.
Sunday 17 July will see over 70 young people from National Citizen Service (The Challenge) in the park. Come down 12-3 when they will be organising a mini sports day (free but you are welcome to make a donation) using the various sporting equipment that we have installed over the years. Hopefully they will put the new orienteering course to the test.
The Pavilion Café will be open 7 days a week from 25th July through to the end of August.
14th July 2017