Boris visits Greenford and promises HS2 residents to fight for tunnel
Mayoral candidate, Boris Johnson has told local residents he will continue to fight for a tunnel for those affected by the new rail link in Ealing (HS2).
He was visiting Greenford yesterday (Wednesday 28th March) as part of his re-election campaign.
Locals in the North of the borough have been campaigning against the HS2 and were disappointed when they heard that the tunnel would be go through Rusilip - but would stop close to the border with Northolt.
Mr Johnson said he wants the tunnel to go the whole route through London.
Campaigner and resident Albertina McNeil was in Greenford and writes:
'Boris Johnson arrived at around 1.20pm on Wednesday at reenford Hall with Deputy Mayor Richard Barnes
Local Conservative party members including Councillors David Millican and Colm Costello accompanied him on a walk along Greenford Broadway.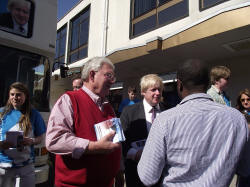 Boris with Deputy Mayor Richard Barnes who also hopes to secure his seat at the elections on May 3.
Boris was mobbed once everyone realised he was there and people waited to have their photo taken with him.
He gave a speech outside the Cancer Research shop where he also bought a book.''
Other mayoral candidates include: Labour Ken Livingstone, independent Siobhan Benita, Carlos Cortiglia for the British National Party, the Greens' Jenny Jones, Liberal Democrat Brian Paddick and Lawrence James Webb for Fresh Choice for London.
For more information and a full list of London Assembly member candidates visit www.londonelects.org.uk
29th March 2012