And makes time for a game of netball
The London Mayor enjoyed a game of netball after meeting students in Ealing.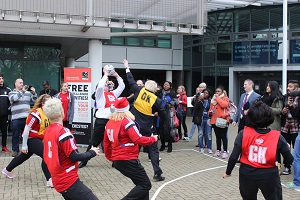 Boris Johnson and Deputy Mayor for Policing and Crime, Stephen Greenhalgh, visited the College's Ealing campus to chat to students taking part in the Metropolitan Police Service Community Ambassador Programme.

The Community Ambassador Programme (CAP) aims to strengthen ties between the police force and the communities they serve. High achieving and ambitious students have been given the opportunity to act as ambassadors for the police service and will receive mentoring and access to work experience opportunities.

The Mayor and Deputy Mayor talked to the students as they worked on their 'Big Idea' project as part of the i-CAN (Community Ambassador Network) programme, in which students were challenged to come up with ways to use their digital, social and media skills to keep themselves, friends and local community safe during the festive period.

Speaking at the campus, Deputy Mayor for Policing and Crime, Stephen Greenhalgh said: "It was great to meet these young Ambassadors and hear their ideas for keeping safe in Ealing. Building bridges between the police and local people is vital if we want to boost confidence and create a police force that is respected and loved."

Sonia Brown MBE, who leads the programme on behalf of the MPS added: "This is an exciting initiative designed to work with energetic, savvy students looking to connect and encourage female and diverse individuals to pursue a career in the Metropolitan Police Service. We will be looking for Community Ambassadors to unleash their creativity to better engage, collaborate and advocate around recruitment issues and by using their local knowledge, skills, networks and contacts they will raise awareness, encourage action and increase applications to the MPS from the wider community."

The College's Principal and Chief Executive Garry Phillips said: "It was great to welcome the Mayor of London and Deputy Mayor of Ealing to show the work we're doing with our community partners such as the Met Police. The Community Ambassador Programme is one of many of our community enterprise initiatives that takes learning out of the classroom and into the wider world, preparing students for the world of work. The College is a really good example of a social enterprise in action."

11th December 2014