Councillor Millican summarises last night's event
Related Links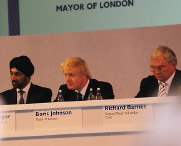 Kulveer Ranger, Boris Johnson Richard Barnes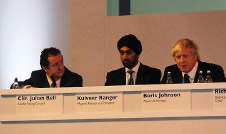 Cllr Julian Bell, Kulveer Ranger, Boris Johnson
(Photos Courtesy Tom Doran)
Participate
Sign up for our free newsletter
Comment on this story on the
Mayor Boris Johnson talked transport in Greenford yesterday evening in his usual direct and open style. He had travelled on the Central line to Greenford and then by the E6. "We have the best bus service in Europe" he proudly lauded. Someone from the audience said that 9 bus routes run through Greenford. Congestion in Greenford was raised; but so many buses both solve the congestion and create the congestion.
The evening was hosted by Richard Barnes, Boris's official deputy and GLA Assembly member for Ealing and Hillingdon. On the platform was Kulveer Ranger, the Mayor's Transport Advisor, who played the straight man to Boris. Ealing Council Leader Julian Bell tried to ask the odd googly question and Liz Pilgrim, who was the voice of the local business person, and who runs "baby e" shops in Ealing and Chiswick.
The questioning opened, to my surprise, with a question I had submitted in advance myself about Crossrail. Since I was responsible for Transport when the Conservatives ran the Council until May last year I have taken a big interest in Crossrail and the benefits it will bring to Ealing and across west London. Boris confirmed that the budget was intact and that it will open in 2018. There were questions about access via lifts and escalators. But Boris said that he didn't want to jeopardise the whole exercise by asking the Treasury for more money. He told us that to add one lift to Green Park station had cost £100M. It would be great to have lifts at all stations but we just can't afford it.
The route of High Speed 2, so called HS2, was a concern to many. The Headteacher of Northolt High School told us that the route would go right through the school music block. Boris wished that he had control of HS2, but he doesn't. "Just be sure to tell the public consultation what you think" he said.
There was much interest in cycling. "Guess how many bikes have been stolen from the London bike scheme? Less than 10" he told us proudly. "What a great success it has been! But we need to make cycling safer and especially to encourage more women to cycle!" People loved the Skyride. This gratified me as I had been responsible for the bid to bring it to Ealing last year. Julian Bell loved it too and promised (yes Boris and I hear him say it) that Ealing Council would find the £30,000 to run another Skyride this year.
My son Nathan jumped up and asked Boris how he could stop Bob Crow's strikes. This set Boris right off. The strikes are clearly political, he asserted, as Bob Crow chose dates that most disrupted the capital, like the date of Kate and William's wedding. "Of course I agree that workers can withdraw their labour, but we need to ensure that a majority of union members support a strike before it goes ahead. Even 48% might be acceptable, which was the percentage who voted for me as Mayor"
He promised to meet various groups, such as those supporting the disabled. There was an impassioned plea from a disabled member of the audience who had been abused on a bus. Boris said how totally unacceptable that was and promised to follow it up.
Following the session several Northfields residents have told me how much they appreciated the session. "Good to hear BJ 'live' for the first time, tackling a serious issue, with self-styled humour" wrote one. That sums it up.
Cllr David Millican
Northfield
20 January 2011