BOKI coffee bar and cafe in the Great West Quarter
We may once have been a nation of tea drinkers but it seems coffee is rapidly becoming the new tea.
Over the past few years there has been a huge growth in numbers of coffee bars, both London wide and more locally and analysts claim this sector remains one of the most successful in the UK economy and will continue to expand.
Ealing now has a variety of such bars, each with its own loyal set of fans. The big boys of Costa and Pret-a-Manger are obviously well known but there are lots more independents which have been received very positively. The Electric Coffee Company, Artisan, Harris and Hoole (backed by Tesco) are fairly new kids to the block. Munson's on St Mary's Road is much more long standing.
Walk a bit further down the South Ealing Road and you can stop off at Paperback Coffee, walk past The Ealing Park Tavern and further still, indeed at the very end of the road, you will come across a brand new and rather stylish coffee bar. If you don't want to walk the 65 bus will take you close, and there is also parking for cars and bikes in the vicinity.
BOKI is situated in Urban Villa on the Great West Road. Urban Villa is a brand new 'boutique' hotel which makes up part of that very tall futuristic building ( dubbed 'the watchtower' by locals) which you can see throughout the area of South Ealing.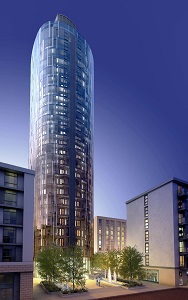 There's a lot of development going on around here and it's all still a work in progress but we were invited to sample some of the tasty offerings at BOKI so popped down last week.
First thing to say is the signage in the area isn't yet finished, so it wasn't clear where this coffee bar actually was (ground floor of Urban Villa), we wandered around the building and eventually asked but once we found it were welcomed walmly by owner Kim Hargreaves.
Kim is one part of BOKI - the name has nothing to do with Nigeria or Hawaii (I had googled!) but is a combination of the names of two owners Boris and Kim.. BOKI (see?)
The two friends who had previously worked in the film industry and hospitality, decided to set up shop together after years of travelling and sampling the coffee shops in Australia.
Kim told us he wanted to provide wholesome, tasty and organic fresh food, sourced as locally as possible. So many of the products are supplied by small companies in Richmond and Chiswick.
The bread comes from the slow bread company in Stamford Brook and I have to say it is absolutely delicious. I tried one of the substantial sandwiches, hummus and mediterranean veg, my partner had his with bacon, boiled egg, advocado and spinach. For £4.25 these were both really tasty and satisying. A current lunch deal allows you to have a sandwich and coffee for £5 which I reckon is good value.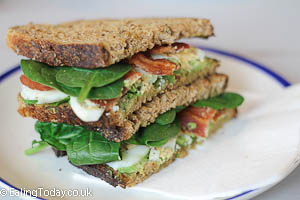 We sampled a few more of BOKI offerings - my partner loved the meaty and spicy sausage rolls and scotch eggs, which he said were more than enough for one person.
The soup of the day - which changes regularly was hearty, warming and absolutely right for this time of year.
As this place has only just opened the cakes and desserts weren't yet in situ but Kim tells us they will be soon and will be coming from the American bakery Outside Tart in Chiswick.
So food gets a big tick - what of the coffee? Well I have to admit I am not a great coffee connoisseur and haven't got a clue about what makes a great flat white but let's just say I was certainly not disappointed.
I can't rave on generally like some can about coffee .. because .. well coffee is just a drink (and yes I hear many of you screaming indignantly right now). But if you like coffee well you will love BOKI.
Kim has lots of plans for the coffee bar, including opening up the outside in summer and selling a very interesting range of craft beers.
The current clientele appears to be made up mostly of residents of Urban Villa and Kew Eye (the apartments that make up the rest of this large block) but BOKI are hoping that word will be spread and more locals from the surrounding area will venture in.
Is it worth a trip from Ealing when there are so many other coffee bars?
I'd say yes, the quality of food is great the ambience is relaxing and there's hi-speed wifi I'm told. Why not visit BOKI and try it yourself?
Welcome to the neighbourhood.
Annemarie Flanagan
12th February 2015