Acts announced for this year's summer festival in Walpole Park
Ealing Blues Festival today announces its most exciting line-up of local and international talent to date.
Leading the line-up this year are The Blockheads. Since 2000, Derek Hussey has been fronting the band, adding 21st century bite to the everyday observations of their late frontman Ian Dury. They will be celebrating the 40th anniversary of their album 'New Boots & Panties' by bringing their witty lyrics to their biggest London show of the summer.
Joining them as headliners across the weekend are Mungo Jerry, the blues, jugband & skiffle influenced band whose frontman and founder Ray Dorset played a number of Ealing venues in his formative years. The group are famous for their feel good summer anthems and responsible for one of the best selling singles of all time, "In The Summertime", which has sold over 30 million copies.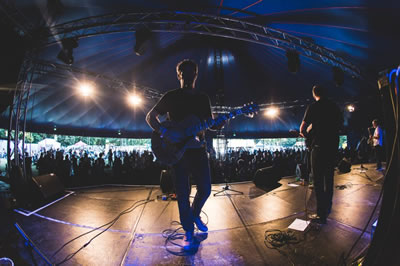 Ealing Blues Festival will present the artists at the heart of the British blues scene, with performances from 2016 British Blues Awards finalists Tim Aves, Northsyde, Sam Kelly & Laura Holland, 2016 Sky Arts Guitar Star series finalist Steve Morrison and Amy Mayes, who recently performed with Jools Holland's band for his Radio Two show. It is also proud to champion a number of emerging blues artists, and will feature showcases from Winnie & The Rockettes, Georgie Chapple, Du Bellows, Andy Twyman and Tom Walker.

Ealing Blues Festival began as an independently-sponsored 'free' event in 1987. Over the years, the festival has developed in partnership with Ealing Council & The Event Umbrella to become one of the biggest blues festivals in the UK, with almost 6,000 people attending last year alone. Acts will perform across three stages in Ealing's beautiful Walpole Park.

Ealing Blues Festival is one of 2017's Ealing Summer Festivals, a series of eight separate events taking place in the borough between July and September. Set in some of Ealing's most beautiful parks, the festivals bring people together in a collective appreciation of exceptional local and international talent across a range of artistic disciplines.

Line-up

The Blockheads
Mungo Jerry
Tom Walker Band
Laura Holland Band
Bourbon Street Revival
Du Bellows
Greg Coulson
Amy Mayes Band
John Crampton
Northsyde
Georgie Chapple Band
Tim Aves & Wolfpack
Steve Morrison & Blues Abuse
Marky Dawson
Andy Twyman
Sam Kelly's Station House
Dan Sowerby & Hugh Budden
Winnie & The Rockettes
Mumbo Jumbo
Geoff Garbow Band
Robert Hokum's Blues Festival All Stars
Uncle Buck
Little Steam
Mack
King Buster Blues Band
Ealing Blues Festival details
22th – 23th July 2017
Walpole Park, London, W5 5HS
12pm - 11pm
Tickets available from here
Advance tickets: £5 per day or £10 for the weekend (plus booking fees)
Website URL

http://www.ealingsummerfestivals.com/events/blues-festival/
Ticket URL

http://www.ticketline.co.uk/ealing-summer-festivals#tour
April 19th 2017