Intense blaze at block of flats - not known if anyone inside
Part of the roof of a block of flats has collapsed during a blaze in West Ealing.
Thirty firefighters are in Chapel Road, off the Uxbridge Road tackling the fire on the third floor of the block - which started around 3.20pm.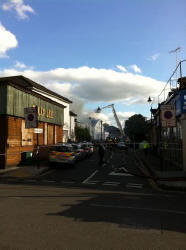 Picture via twitter from @missybrar
The fire is in a flat which is in a converted terraced house. The affected flat has five rooms and is in the loft of the building. It's not known at this stage whether there is anyone inside the flat.
Wembley Fire Station Manager, Pushminder Vagarwal, who is at the scene, said: "When firefighters arrived at the scene they were faced with a large and well developed fire. Due to the intensity of the flames, part of the roof has collapsed so our crews are tackling the fire from the outside of the building using an aerial platform.
"It's fair to say it's been a challenging job but firefighters are working extremely hard to bring the fire under control."
The Brigade was called at 1521. Firefighters from Ealing, Southall, Northolt, Wembley and Chiswick are at the scene.
21st September 2011