New Zealand teacher died after being hit by police at anti-nazi rally
Forty years ago, on 23 April 1979 a New Zealand teacher, Blair Peach, was killed whilst protesting against the National Front at a rally in Southall.
Now campaigners for anti-racism group, Southall Resists are pledging to name the policeman believed to be responsible for his death.

Mr Peach died at the Anti-Nazi League demonstration from a blow to the head. It took 30 years for the Metropolitan Police to admit he was likely killed by a riot squad officer.
A spokesman for Southall Resists, Suresh Grover says the officer who struck the deadly blow will be named at a 40-year remembrance ceremony which will be hosted at Southall Town Hall, the same place Mr Peach was knocked unconscious, on 23 April.
Mr Grover said the group knew they risked being sued for defamation for naming the officer.
"This is unfinished business for us, and if there is defamatory (sic) they will have to come to court and explain why he was not responsible. That's better than not having a trial at all."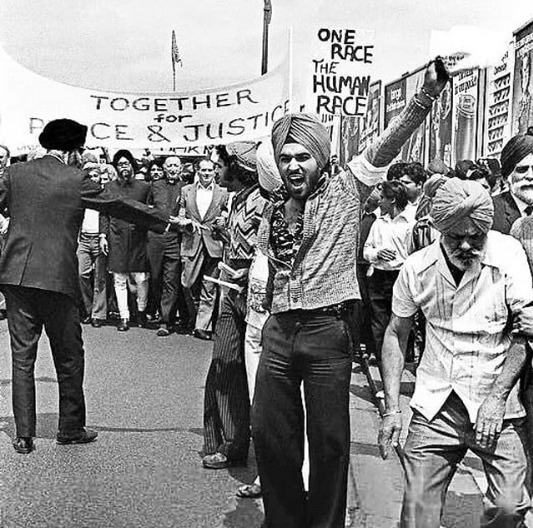 (Southall Against Racism Demo 1979, pic credit Southall Resists)
A plaque dedicated to the 33-year-old victim will be presented, and a five minute statement will be read by his widow, Celia Stubbs. A demonstration is also planned for 27 April.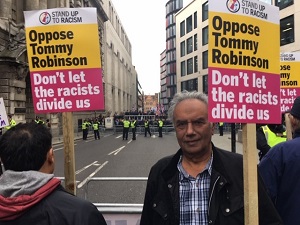 The Chief Steward on that day, Balwinder Rana was also a friend of Blair Peach - he has written his personal account of the violent events of that day.

Here is an abridged version:
'Those of us who were there on the day, the memories of that day will be etched upon our minds forever.
On Monday, 23rd April, the police started to arrive in the town from early morning and by mid-day nearly three thousand of them were present. Soon they were marching up and down and directing people in aggressive manner. At about 1:00pm all the local shops and businesses were shut and almost all the workers in the local factories went on strike.

At about the same time rumours were heard that the police were trying to smuggle the NF into the Town Hall early. So many protesters, led by the Southall Youth Movement gathered and Police soon started pushing them away, attacking and arresting them. When I tried to intervene the police threatened to arrest me too, and from then onwards they refused to co-operate with the stewards.
By 5:00pm thousands of people, young and old, men and women, black, Asian, white, had gathered at those four road blocks. The protesters were mostly local but there were also many anti-racists from outside who had come to show their solidarity. They were being prevented from reaching the Town Hall to make their peaceful protest by the massive presence of the police. People were not even being allowed to go to their own homes that were within the cordoned off area and it looked like an occupied town. People were becoming very restless and agitated and often they would try to break through the police lines only to be followed by the police pushing them with their riot shields, attacking them with their long truncheons, while snatch squads went into the crowds, carting off some struggling youngsters and others.
I managed to drive around a couple of times to see what was happening in each area while talking to the stewards and encouraging people to stay steadfast and to keep up their spirits.
At about 6:00pm, I was at one of the police cordons near Southall Park. About 6:30pm, some people tried, unsuccessfully, to push through the police line and a couple of flares were let off. But, soon the police line opened and a dozen mounted police charged into the crowd, hitting people and chasing them in all directions.
They were followed by the Special Patrol Group (SPG) squads that indiscriminately attacked people and chased some of them into the Peoples Unite building. There many were badly injured, including Clarance Baker, manager of the Mist in Roots reggae band, who was hospitalised for many months.
I, myself, was able to escape by climbing over someone's garage in the Park View Road and go to the other road running parallel to Park View Road in the direction of Ealing.
From there I was able to make my way on foot, via the Dormers Wells Lane and Dane Road, to the Hayes side of the Broadway, near the Ramgarhia Hall and about 7:30pm I joined with the protesters in the Broadway. Soon some youngsters tried to throw a small 'petrol bomb' towards a police coach. The device fell short but the driver of the coach had seen the flash and he, immediately, drove at high speed towards the Town Hall and into the backs of the protesters who were being blocked by the police cordon further down. There were some few thousand people there who tried to run in all directions to escape the coach coming at them at high speed.
At about 7:30pm, under heavy police guard, a bunch of NF, no more than thirty, giving Nazi salutes and shouting racist obscenities were escorted into their tiny meeting place, all of them from outside the area. This enraged the protesters, especially who were in the Broadway, even more and they tried to reach the Town Hall. This led to the most violent police attack, with the SPG vans being driven at high speed towards the crowds to throw people into the vans while police on horse back charging into the crowds and police on foot chasing people in all directions.
I did not see Blair Peach or his friends that evening but I believe they were around when I was in the Broadway and around that time, during one of those police raids, that Blair Peach and his friends were trapped by an SPG group at the end of Orchard Avenue. There were at least six witnesses to this event. They saw an SPG policeman club Blair Peach over the head. He fell then was comforted by the Atwal family who called an ambulance.
It was soon after mid-night that we got a call giving us the tragic news that our brother Blair Peach had died in Ealing Hospital. We were all in a shock but that made us even more determined and we carried on with our work of locating the arrested people and taking them to their homes. But there were too many of them as nearly 700 were arrested and 342 of them charged.
I had known Blair from a couple of years earlier when we both used to join whole night protests against the NF in the Brick Lane area of east London. Blair Peach was always there and he was a fighter and an active member of the Anti Nazi League. We shall always remember him!'
Article written with contributions from local democracy reporter Ged Cann
April 16th 2019