Latest example of Ealing enforcement officers hitting 'soft targets'
A 71 year old woman from Hanwell's been fined for feeding the birds on Haven Green.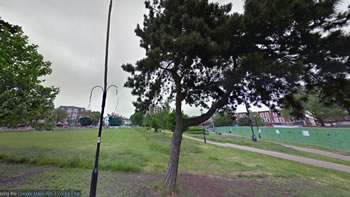 (Haven Green-Google Street View)
It happened in December when the woman - who doesn't wish to be named - said she was approached by a man and woman in dark clothing and told she was committing an offence.

She was asked for her name and addresss and later received a Fixed Penalty Notice in the post for £80 which she paid immediately .
The fine only came to light when she mentioned it to her friend, Alexandra, who says the pensioner was terrified she might have to go to court. She believes it's outrageous and wants to make sure the money is returned.

She says: '' I am incandescent with rage. This is a gentle person who could just have been given a warning, she could have walked away, I'm quite sure, and nothing would have happened but she was truly frightened of being taken to prison.''
''What's more the paperwork that is sent out is designed to scare people, it doesn't say what will happen if you appeal and if your appeal fails. This should be made much clearer.''

She contacted Councillor David Millican who said: '' Fining for dropping bread crumbs does seem very dis-proportionate. So I will take this up with the council to understand what the policy is and whether the litter patrols wouldn't be better employed on stopping larger scale flytips.''
A council spokesperson said: "An on-the-spot fixed-penalty notice (FPN) was issued after officers witnessed a shredded loaf of bread being thrown on the floor. The FPN was paid four days later so no further correspondence was sent out by the council.
"Discarded food and food containers account for a significant proportion of on-street litter which has to be constantly cleared by the council. Dropping food, even to feed pigeons is a health risk and can attract pest species such as rats as well as being unpleasant for other residents.
"We are committed to ensuring that our streets and open spaces are litter-free, attractive places enjoyed by visitors and residents and we strongly discourage people from throwing food on the ground for seagulls and pigeons."
It's the latest in a number of incidents that have come to light concerning the authority's private contractors Kingdom.

In other reported cases a woman in Hanwell was fined for putting extra recycling out and another for pouring coffee down a drain outside Ealing Broadway station.
Before Christmas James Fuller from Ealing Common was accused of fly-tipping a large cardboard box on a residential road in Southall. He says the box had been used to sell speakers via the Gumtree website.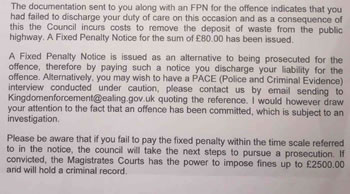 He tells Ealing Today:

'' Enforcement officers who found the box wrongly assumed - because it had my old address on - that I was the guilty party. They sent me a letter telling me I had a fine of £80 and warned that if I didn't pay I could be taken to court, fined up to £2,500 and end up with a criminal record.''
Around 4,000 fines have been sent out to those suspected of fly-tipping in Ealing but concerns are being raised that they're not being sent to the real culprits.
Mr Fuller says it took several emails, phonecalls and help from his local councillor before the enforcement officials agreed it was a mistake and cancelled the FPN.
'' I agree to cracking down on real fly-tippers but agencies like these seem to be sending penalty notices out too easily, without fully investigating who is actually responsible and that's a worry.''
Four specialist enforcement teams currently operate in the borough and Fixed Penalty Notices (FPN) were introduced in August issued by contractors Kingdom on behalf of Ealing Council.
Cllr Bassam Mahfouz, the council's cabinet member for environment, transport and leisure said:

"I welcome news that since the introduction of our fly-tip enforcement crews, we have seen a huge 46% drop in the number of fly-tips around the borough and nearly 4,000 fines issued.

"The message is hitting home to the irresponsible people who think it's ok to leave their mess for others to deal with. They risk receiving an unwelcome notice through their letter box with a fine of £400, which if ignored could result in a prosecution, criminal record, being named and shamed and a fine running into thousands of pounds."
But not everyone is convinced the current system is working as it should.

Cllr Greg Stafford, Conservative Opposition Leader said:
''This tough stance on fly tipping that the Labour Administration would like us to believe is happening is actually being issued to the soft targets; like the people who put out extra garbage over Christmas.
''The real fly-tippers, those who are dumping large household items are being ignored by the Council because often times the CCTV evidence required for prosecution is not available or better yet, was not working!
''There is a reason why Ealing was recently named as the 15th worse borough in the Country as a Grot Spot and it comes back to the efficiency of our waste & recycling and street cleaning services. Unfortunately, until Labour acknowledges that there are genuine problems in this service area, the soft targets will continue to be a risk for a trumped up fine."
A council spokesperson said:

"The council takes one of the toughest positions in the country when it comes to cracking down on the irresponsible people who dump rubbish on the borough's streets. The council works to prosecute prolific fly-tippers, and our specialist enforcement teams prioritise areas where there is a high density of cases. We use mapping technology alongside reports from residents to pinpoint such hotspots."
We have asked Ealing Council how much money has been made by contractors since the introduction of the FPNs.
3rd March 2017 ( updated)