On yer bike! Councillors get pedalling and hope to encourage others
Related Links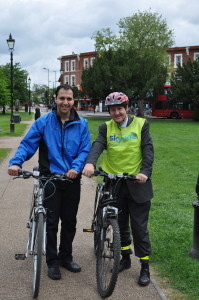 Cabinet member for transport and environment, Cllr Bassam Mahfouz and leader of Ealing Council, Cllr Julian Bell


Participate
Sign up for our free newsletter
Comment on this story on the
It's something many people would like to tell politicians to do - but some of Ealing's Councillors are actually doing it.
They've got on their bikes to save money, help the environment and tackle obesity.
Council leader, Councillor Julian Bell is aiming to cycle 2,012 miles in 2012 as part of his Olympic 'get set challenge.' He has cycled more than 800 miles since early April.
He said: "I'm enjoying the exercise and fresh air and every time I pass a petrol station I'm reminded how much money I'm saving.
"We have already done a lot to encourage residents to take to their bikes and want more people to feel and be safe cycling on our roads."
Councillor Bassam Mahfouz, cabinet member for transport and environment said:
"I cycle to work most days and it's a great way to get around. No more waiting for buses, delayed trains or sitting in traffic on my commute.
"Cycling is a fast, cheap, healthy and environmentally-friendly way of travelling. We want residents of all ages and experience to view cycling as an attractive and safe option."
It's National Bike Week 16-24 June and councillors have agreed a series of principles to encourage more people to cycle.
These include:
* Supporting high-profile campaigns such as the Times newspaper's Cycle Safety Campaign as well as the Love London: Go Dutch Campaign
* Creating cycle routes which are segregated or part segregated from other traffic
* Improving cycle links to town centres
* Improving cycle safety
* Increasing public cycle parking facilities
* Working with the police to tackle cycle theft
* Campaigning for further investment to be made available for cycling improvements.
Meanwhile Ealing's first official bicycle hub will open in Haven Green in July. It's hoped it will offer more secure, covered and well-lit cycle parking.
The new cycle stand will be covered by CCTV and will increase the existing amount of cycle parking places available from 74 to 123. It will also include a separate folding cycle hire facility.
A series of Dr Bike Sessions, which help cyclists find out what may be wrong with their bikes and how to fix them, are being held to mark National Bike Week:
Saturday 16 June: Melbourne Avenue, West Ealing 2-5pm
Ealing Green 10am-4pm, run by Ealing Cycling Campaign
Sunday 17 June, 12-3pm: Southall Park
Monday 18 June, 4-7pm: Greenford town centre, corner of Oldfield Lane and Ruislip Road
Tuesday 19 June, 4-7pm: Haven Green, Ealing
Wednesday 20 June, 4-7pm: Hanwell Clock Tower
Thursday 21 June, 4-7pm: Acton Town Centre
Friday 22 June, 4-7pm: West Ealing
Saturday 23 June, 2-5pm: Southall Park
12th June 2012