10-year-old Ben Smith used his money to help Ealing Soup Kitchen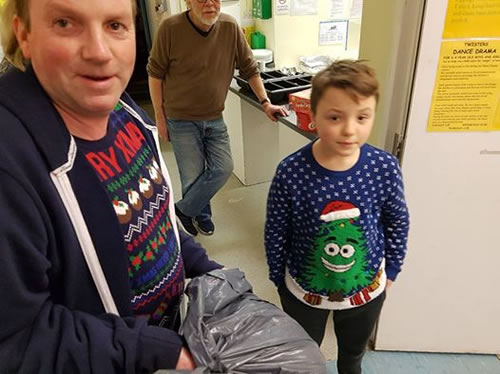 A kindhearted Ealing schoolboy decided that instead of asking for lots of presents for Christmas this year he would donate to charity instead.
Ten-year-old Ben Smith from Greenford amazed his parents when he told them he already had enough things and he wanted to give £30 to help the homeless.
Mum, Fiona, and dad ,Mick, matched his donation and the family bought and distributed sleeping bags for Ealing Soup Kitchen.
Fiona said: '' Ben started researching charities himself and found that the soup kitchen really needed the sleeping bags. We bought them and handed them out at the weekend and Ben was really pleased he could help a bit but saddened that people were having to sleep out in the cold.''
She says they're all really proud of him and his generous gesture and says Ben now wants to do even more.
''He wants more people to help out and hopes to do more fundraising himself. In the New Year Ben's going to ask his school if they can get involved too.''
Andrew McLeay who is Ealing Churches' Worker with Homeless People said:
''When I heard about what Ben was doing from his parents, I was blown away. I was so eager to meet him and get him down to the Soup Kitchen. It was such a touching moment when he came and distributed the sleeping bags he'd bought out of his own money, and the rough sleepers who received them greeted him with such a warm, appreciative smile.
''I don't think there's a better example of selflessness. Children are taught about what they're going to get as presents from Santa and how it'll be such a great day for them if they have behaved, and the rewards they're going to get – it's the one day children can reap the rewards of the year and have the day be all about them. Ben chose the opposite, and made the day about others.
''You rarely see such generous contributions to charity from children – and his sentiment that even as a child, he just wanted to help those in need because he had so much – is so rare in children that it warmed even the coldest of hearts when Ben came to visit us.''

Find out how you can help here
20th December 2016