New Year messages from Ealing Council Leader and Southall Labour MP
2013 saw local people, Ealing Council and politicians from all parties fight to save our local Hospitals only to be denied by first the courts and then by the Tory Secretary of State, Jeremy Hunt MP.
It is a grim outcome that means that all four A&Es at Ealing, Central Middlesex, Charing Cross and Hammersmith will close and that all four hospitals will be downgraded to 'Local Hospitals'. At Ealing it means that the bulldozers will move in and that in addition to the A&E closing the Intensive Care Unit and the Maternity Unit go.
Sadly the Secretary of State and the local Tories' spin that the Ealing and Charing Cross A&Es are saved is a lie. Having listened to the public pronouncements of Dr Mark Spencer and met with Ealing CCG in December it is clear to me that any so called A&E will only be a minor injuries unit managed by GPs not consultants and will not receive blue light ambulances. That is not an A&E as the public understand it.
2014 must see the fight for a proper A&E at Ealing and Charing Cross go on and no closures at Central Middlesex and Hammersmith until alternative provision is in place and it is safe to do so.
A happy and prosperous New Year to all Ealing Today readers.

Cllr Julian Bell
New Year Message From Virendra Sharma MP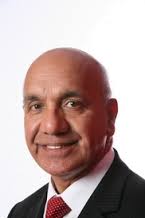 2013 has been dominated by the fight to save our local hospitals. The local community have held candlelit vigils, marches, rallies and signed postcards and petitions in an unprecedented effort to save the A&Es at Ealing, Central Middlesex, Charing Cross and Hammersmith. Ealing Council took the fight to the High Court seeking a judicial review of the decision but were denied by the judge in mid October and also got an independent review of the controversial proposals and a referral to the Secretary of State for Health in the autumn.
The outcome of that was devastating news. The Tory Health Secretary confirmed the decision to downgrade Ealing Hospital and close its A&E and maternity unit and close all the other local A&Es. He then engaged in a cynical piece of dishonest political spin by claiming that the A&Es at Ealing and Charing Cross would continue. They will not be A&Es. They will be minor injury units led by GPs.
I am due to meet Jeremy Hunt MP in January and will also meet with Labour shadow Secretary of State for Health Andy Burnham MP. In 2014 the fight to save our Hospitals goes on!
May I wish all Ealing Today readers a Happy and prosperous New Year.
31st December 2013