Local MP takes on the case of Zac Belcastro
A primary school teacher at Christ The Saviour in Ealing has been prevented from returning to work after visiting his family in Canada.
On multiple occasions, the school has applied for Zac Belcastro to be able to continue in his employment but his visa has been denied by the Home Office.
Christ The Saviour is a Church of England school run by the London Diocesan Board for Schools, and currently oversubscribed with about 850 pupils across two sites.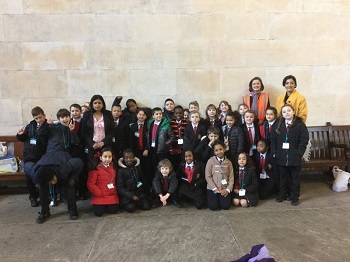 ( Rupa Huq with children from Christ The Saviour)
The Ealing Central and Acton MP, Rupa Huq, has taken on his case which has been highlighted on the BBC, she said: ''It's ridiculous that this professional, well liked teacher is unable to return to his class due to the administrative shambles that is the Home Office today. People in my constituency and elsewhere were shocked and appalled when seeing the BBC cover the story. There's clearly outrage over the Kafkaesque nightmare Mr Belcastro is now facing.
'Children are having their education damaged for no reason beyond the Tories' obsession with migration targets. This is just another example of an innocent man having his world turned upside down. I was glad to see that the story had been picked up by the BBC; it's essential that as many people as possible protest this utterly mystifying decision'
A spokesperson from The Home Office sent this statement, '' The Government fully recognises the contribution that international teachers – and other professionals – make to the UK.

"However, it is important that our immigration system works in the national interest, ensuring that employers look first to the UK resident labour market before recruiting from overseas.

"When demand exceeds the monthly available allocation of Tier 2 (General) places, priority is given to applicants filling a shortage or PhD-level occupations. No occupation on the Shortage Occupation List – which is based on advice by the independent Migration Advisory Committee – has been refused a place."

May 15th 2018