Richard Barnes visits Tfl improvement schemes
Related Links
redevelopments along Northfields Ave, here shown at Lammas Park entrance: Left to right Richard Barnes, Cllr Phil Taylor, Cllr Ann Chapman, Cllr PhilTaylor
Participate
Sign up for our free newsletter
Comment on this story on the
London's Deputy Mayor and Ealing GLA member Richard Barnes paid a visit to Ealing this week to inspect some local redevelopment projects.
Transport for London, under the direction of London Mayor, Boris Johnson, is spending almost £10M over 3 years on various works across the whole of Ealing borough.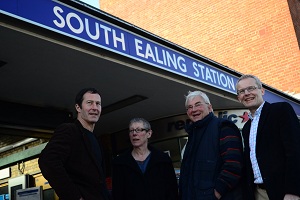 Richard Barnes visited several local schemes with local Conservative Councillors David Millican, Phil Taylor and Ann Chapman.
He said: "This shows huge commitment by Transport for London for the redevelopment of Ealing borough. Some schemes are already finished, such as the new entrance to South Ealing station and the roundabout at St Mary's Road, whilst Northfields Avenue is being redeveloped right now. Local shopkeepers and residents told me how much they appreciated the work"
Examples of schemes being implemented are in Lady Margaret Rd, Southall; Uxbridge Rd, Acton; Gunnersbury Lane & Horn Lane, Acton; St Marys Road & South Ealing Road; Northfields Ave, West Ealing; Boston Road, Hanwell; Ruislip Rd & Greenford Rd, Greenford; Bilton Road, Perivale; Ealing Road & Mandeville Road, Northolt
Are you happy with the work? Discuss on the forum.
7th March 2012