Injured baby found in Walpole Park delivered to Tiggywinkles in Buckinghamshire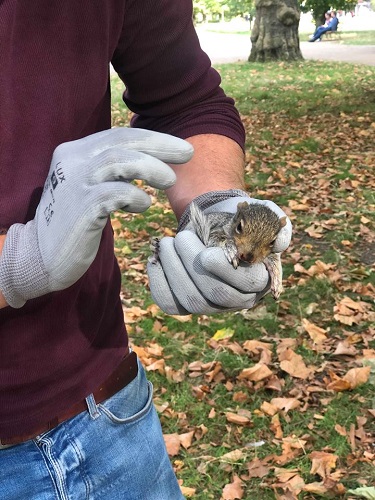 A kind hearted Ealing couple went on an 80 mile mercy dash to try and save an injured baby squirrel found in Walpole Park.
Local nanny Lucila Osorio Rodriguez, (Luli) was walking her dog Leyla in the park on Sunday afternoon (9 September) when she stumbled across the tiny animal believed to have fallen from the tree. Luli says she waited to see if the baby's mother was nearby but when it didn't appear she couldn't leave it fearing it would be attacked and killed.
She phoned her partner, Michael, who met her at the park and they both decided to take the squirrel home and investigate how they could best help.
They wrapped it in a t-shirt and put it near a hot water bottle, fed it drops of sugar water and sought advice from social media.
After calling various animal charities they eventually found one that was open and willing to take the injured baby, but it meant driving around 40 miles to Buckinghamshire and back.
Tiggywinkles has been running since 1978, is open 24/7, 365 days to care for all sick, injured and orphaned British wildlife. It's estimated they deal with over 10,000 animals every year.
Staff look after all types of injured wildlife, so were well equipped to look after the baby squirrel.
The couple have been praised for their actions by local residents on community facebook pages.
Luli said '' We didn't think twice about taking care of it and I'd like to think anyone who came across an injured animal would show compassion and help it out if they could.''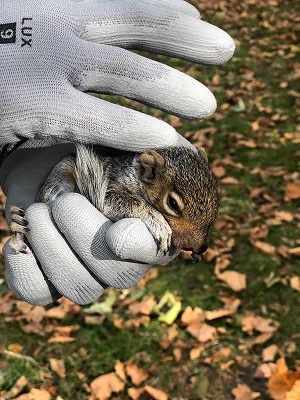 Sadly the baby squirrel didn't make it.

Luli and Michael have been told it had suffered head injuries from the fall, it was treated and survived two more days but wasn't strong enough to pull through.
Tiggywinkles rely on donations and you can find out how to support them here.
September 12 2018 ( updated 18th)