Baby shop on Ealing Green to close at Christmas
The mother-of-two, who became the voice of Ealing following the riots of August 2011, is to shut shop.
Liz Pilgrim's babywear business, 'babye', on Ealing Green, was badly damaged during the night of violence and destruction.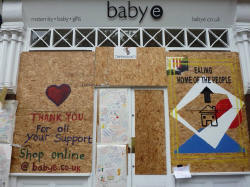 Ms Pilgrim became a national media figure speaking out about the 'feral rats' who had left her heartbroken.
Since then, the West Ealing resident has worked hard within the community to rebuild her award winning business, but says increased rates & overheads means it's no longer viable. It will close at Christmas. The Chiswick branch of Babye closed last year.
Ms Pilgrim plans to continue in retail, but hasn't found another suitable premises, so, is taking her business and new consultancy online.
She says she is very sad to be leaving Ealing Green: '' After having gone through so much personally with the riots and the aftermath and changing the retail landscape on Ealing Green in so many ways when we first moved in, it is disappointing that I can't find suitable premises as yet.
''We have had so much support since opening all those years ago and really feel part of the Ealing community. We would like to take this opportunity to thank all our lovely customers who have shopped with us and hope they will continue to shop through our online store as we still be stocking many local products – our customer loyalty, especially the response we had after the riots, has been much appreciated.''
Ms Pilgrim says she is currently in negotiations with a new tenant for the shop site and can't confirm the exact closure date but it is likely to be Christmas Eve.
23rd November 2012