Local trader shows her support for Ealing following last years riot
Ealing's on the up according to a businesswoman whose shop was badly damaged in last summers' riots.
Liz Pilgrim owns the specialist maternity and babywear shop 'babye' on Ealing Green - which suffered extensive damage last August.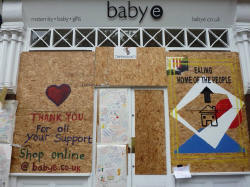 Her plight captured the attention of the media and she was extensively interviewed on television where she spoke about the overwhelming support she had received from Ealing.
She was recently part of a delegation of retailers nominated by Ealing Council to meet deputy Prime Minister Nick Clegg and the leader of the Opposition Ed Miliband in Whitehall .
The reception was hosted by former Ealing Council Chief Executive Darra Singh, now Chair of the Riots Communities and Victims panel and gave Ealing traders an opportunity to discuss their grievances and concerns about the future.
Liz Pilgrim's decision to close the Chiswick branch of her babye shop has caused some upset, she says business in W4 hasn't been doing as well as it has in W5.
She said: "People find it difficult to believe that I am closing Chiswick and staying open in Ealing but Ealing seems to be on the up. There's a lot of development going on and people seem to be happy to come into shops like mine with high-quality goods, and pay the prices," said Ms. Pilgrim.
"That wasn't happening in Chiswick. Nobody wanted to pay more than a few pounds for an item and I had a lot of people browsing but not buying.
"It's very sad, but as the saying goes 'use it or lose it'. Shops are really up against it. If people don't come and buy from their independent retailers, they won't be able to remain open and you're going to see more shops closing in Chiswick.
"The fact was that for me in Chiswick, the average transaction had fallen, the footfall had dropped and the overheads and the rents remained high. It was depressing".
She added that she was able to continue her business in Ealing because of a loyal customer base there, an excellent location, and local developments which were attracting families to the area who were willing to spend money on high-quality merchandise.
One example was the Dickens Yard development in the area near the Town Hall which envisages traffic-free streets and squares lined with upmarket boutiques and cafes.
The babye shop, which sells stylish designer brands in maternity wear and baby products was launched in 2004. Ms. Pilgrim said Chiswick customers could still visit the store at The Green , Ealing , or shop online at www.babye.co.uk.
29th March 2012