Upcoming star Johnny Ashby to tour the USA next year
Singer songwriter and guitarist Johnny Ashby performed an intimate gig at St Mary's Church, Ealing, to friends and fans.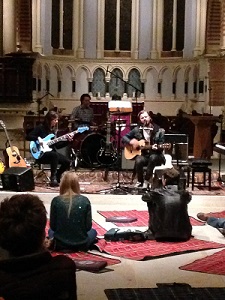 Ashby, 26, a former pupil of St Benedict's School in Ealing, is an emerging artist on the UK and US songwriter circuit. His acoustic sound is influenced by Paul Simon, Fleetwood Mac and Ryan Adams.
Listen to Johnny here on SoundCloud
With the audience reclining on bean bags and eating picnics, and Johnny's informal chat between songs, the evening had closely personal feel.
Ashby's debut single, Back in 1993, was recorded in a studio at Gardonyi's music shop on South Ealing Road where he works, and is currently receiving airplay on BBC and Absolute radio.
Johnny has toured the UK twice with his band and plays regular sell out shows in London at iconic venues such as Ronnie Scotts, The 100 Club and the Camden Barfly, playing an average of three solo shows a week. Ashby was accompanied by Charlie Dale on drums and Kat Bax on bass. Also performing on Friday was Paul Adams, Ashby's friend and mentor, accompanied by Paul Bailey. Adams will accompany Ashby on a US tour next year."
Polly Manser
11th December 2014