Running every Saturday with a range of activities on offer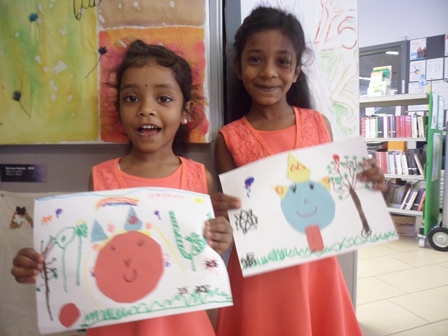 Kavinela and Kaninela Tharmakulasingam at Northolt library
A new Arts Awards Club launches this Saturday (January 7) at Northolt Leisure Library.
The club is aimed at eight to 13-year-olds and will run every Saturday morning until March from 10.30am-12.30pm, offering youngsters a wide range of activities to take part in.
The project is funded by the Arts Award Access Fund and West London Arts Scene (WLAS) is working with Ealing Libraries and CCS (Cultural Community Solutions) to present the Explore Arts Award.
WLAS, which incorporates the Ealing Autumn Festival, has been working closely with libraries in Ealing to roll out a comprehensive scheme of Arts Award courses
The club will take youngsters on to the next stage, Explore Arts Award. Club members will be able to participate in activities like photography, digital music, writing, drama, art, storytelling, playing music and Lego design.
A spokesperson for Northolt Leisure Library said: "This is an exciting new programme and we are pleased to be supporting the Arts Award Club. We held workshops at the library last year and more than 1300 children and young people took part in in art and craftwork, games activities, literary and musical events.
Ealing Festival Artistic Director, Gillian Spragg said: "Such a big selection of arts activity in the same place makes this ideal for young people so sign up for an Arts Award.
"Youngsters are encouraged to take on board a number of different activities and find out more about the artists that practice them. Northfield Leisure Library is the perfect place for this and, at the end, we hope we will be able to award plenty of certificates to enthusiastic young arts people."
Full information about joining the Arts Award Club is available from Northolt Leisure Library (0203 7001080) and West London Arts Scene (info@ealingautumnfestival.co.uk or 020 8567 7623).
3rd January 2017