New Arts Award Club for children from 8-13 has been launched
The new Arts Award Club at Northolt Leisure Library has started with youngsters exploring a wide array of arts activities.
Launched by West London Arts Scene the club is aimed at eight to 13-year-olds and runs every Saturday morning until March 25 from 10.30am-12.30pm.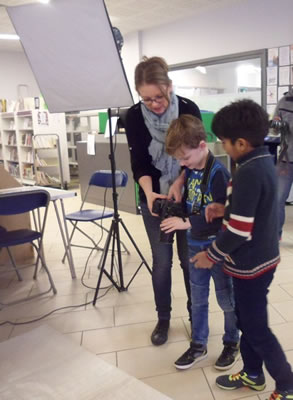 On the opening Saturday, Carol Wilkes held a quilting workshop making handkerchiefs decorated with letters that were stamped on with colourful inks.
Hanworth photographer Barbara Pearce-Scott then showed children how to manage a camera in week two and said: "The children were really responsive and very quickly make big improvements to their pictures. By the second or third go, they placed the children they were taking pictures of well in the centre of the image to make a very good composition."
This coming Saturday (January 21) is Lego week and the Northolt librarians will show how to make things that move, such as aeroplanes and other models.
The project is funded by the Arts Award Access Fund and WLAS, which incorporates Ealing Autumn Festival, is working with Ealing Libraries and CCS (Cultural Community Solutions) to present the Explore Arts Award.
Youngsters not already registered should arrive at 10.20pm to sign up for the weekly visit, or they sign up any time at Northolt Leisure Library.

A special Arts Award certificate will be available to youngsters to show that they have made really good progress in their interest in the arts.
Full information about joining the Arts Award Club is available from Northolt Leisure Library (0203 7001080) and West London Arts Scene (info@ealingautumnfestival.co.uk or 020 8567 7623).
January 18th 2017