Meet Ealing's Artist-in-Residence at the park
Related Links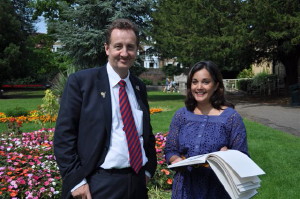 Artist Raksha Patel showing her sketches to Councillor Julian Bell in Walpole Park.
Participate
Sign up for our free newsletter
Comment on this story on the
Ealing will get its first ever artist-in-residence this month and it's hoped Walpole Park will provide a suitably creative setting.
In July 2011 the council was awarded a £2.4million HLF Parks for People grant to help restore and preserve the park and some of its historic features, as well as create opportunities for local people to enjoy the green space.
London-based artist Raksha Patel will work in and around the park until the end of September creating a range of unique artworks inspired by the leafy setting.
She will explore the cycles of nature in Walpole Park through drawing, filming and painting, as well as develop artworks relating to plant symbolism and garden symmetry, inspired by Regency garden design.
Raksha said: "The green spaces in Ealing are open and refreshing. They allow the time to breathe and reflect, which is important for creativity. I am interested in exploring the park's past and its connection with Sir John Soane, and by investigating its heritage I envisage making artworks that are evocative of its history yet contemporary and relevant for today."
Leader of the council, Councillor Julian Bell, said: "The long and rich history of Walpole Park and the manor house make it the perfect setting for an artist-in-residence. I am delighted to welcome Raksha to the park and look forward to seeing her artworks develop."
Artist meet and greet sessions will take place in the park on 20 and 22 September, giving aspiring artists the opportunity to chat with Raksha and view her developing art.
For more information, please visit www.ealing.gov.uk/pmgwalpole or to book a place email pmgwalpole@ealing.gov.uk
21st August 2012

3rd July 2012