One of the oldest and friendliest art clubs in the borough
Participate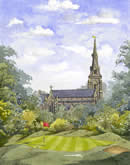 St Mary's church Hanwell from the 14th green of Brent valley Golf Course by David Webster
Sign up for our free newsletter
Comment on this story on the


Ealing Art Group is a non profit organization which was founded in 1910 and to this day has a large membership of amateur and professional artists of all ages and abilities.
A friendly group whose objective is to enhance their knowledge of the arts, share their experiences and improve their skills.
Today Ealing Art Group artists work in many different medias ranging from more traditional to modern paintings . The crafts artists include works in clay, fabric, metal, silk, papier maché and precious stone and precious metals.
This welcoming group incorporates two types of membership, full and associate.
The associate's criterion is simply being interested in art.
Full membership requires the submission of work for the committee's consideration. Both memberships may take advantage of the group activities but only full members may exhibit.

This is an active group which includes;-
Demonstrations and talks by lead professional artists.
Next "Demo" is Monday 17th March, 7.30 -9.30pm, Ealing Centre for Independent Living, 1 Bayham Road, West Ealing, W13 0TQ.

Appreciation evenings, when members bring their work for friendly discussion.
Studio evenings, when a model may be hired or a still life displayed.
Outdoor sketching, weekly, paint local scenes, during spring & summer.
Exhibitions, monthly outdoor shows are held in the centre of Ealing on the 1st Saturday of the month from May to September. The groups centre piece is a large Annual Exhibition.

For further information our website is www.ealingartgroup.org.uk or look in " the diary of events" available in the libraries or contact our secretary on 02089985662

8th February 2012