Centenary of St Augustine's Priory
Related Links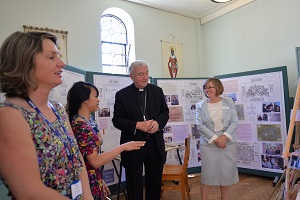 Cardinal Nichols with Headteacher Mrs Sarah Raffray and members of the Art Department.
Credit: Kiranjeet Sandhu, Upper VI.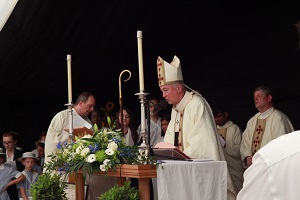 The Cardinal celebrating Mass.
Credit: George Grant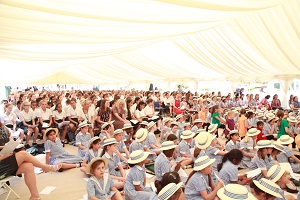 The congregation.
Credit: George Grant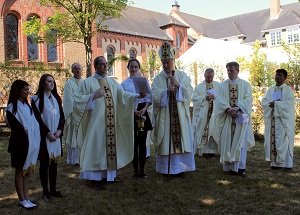 The Cardinal blessing the Prayer Garden
Credit: Jeeba Marri
Participate
Sign up for our free newsletter
Comment on this story on the m
St Augustine's Priory welcomed H.E. Cardinal Vincent Nichols, Archbishop of Westminster, who helped them celebrate their centenary with a special mass.

Although founded in 1634 in France, 2015 sees 100 years of the school being on the Hillcrest Road site.
On arrival he and his Private Secretary, Fr John O'Leary, were welcomed to St Augustine's Priory by Mrs Sarah Raffray, Headteacher, and Mrs Sue Kirby, Chair of Governors
After visiting the Chapel and seeing the exhibit 'A Stitch in Time' the Cardinal gathered with the concelebrating priests and deacon and processed into the grounds where a marquee had been raised for the Mass.
Several hundred people were gathered ready to welcome the Cardinal, including all the school, parents, staff, past pupils and staff, Governors and members of the local community, among them Mr Steve Pound MP.
St Augustine's Priory pupils had prepared the Mass and the Cardinal delivered a homily on faith and how we all should be clothed in compassion, kindness, humility, gentleness, patience and forgiveness.
At the end of Mass Cardinal Nichols blessed the newly-renovated Prayer Garden, worked on by pupils of all ages and supported by dedicated Parents' Committee member and gardener, Mrs Molloy.
A mosaic marking the schools ' One Hundred Years of Faith', was blessed, at which point a hundred blue and white balloons were released.
4th June 2015