Ealing winner at London Borough Awards
Related Links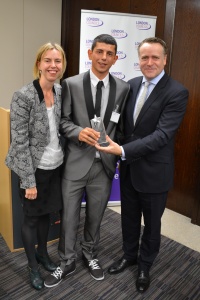 Bradley is pictured with Dianna Neal, head of economy, culture and tourism at London Councils, left, and Councillor Peter John, Executive member for skills and employment.
Participate
Sign up for our free Ealing newsletter
Comment on this story on the
A horticulturalist from Ealing, is one of the winners of this year's London Borough Apprenticeship Awards.
Bradley Gangadeen a horticultural apprentice won the prize for making an outstanding contribution to their organisation..
He's worked on a wide variety of projects from community play days to bee keeping. His team describe him as proactive, for example he creates his own projects such as creating a herb garden and engaging with people with learning difficulties.
Bradley has also had a positive impact working with the Youth Offending Service who bring young people to the park once a week, and he acts as a great role model for the group.
Councillor Ann Chapman, ward Councillor for Walpole ward, said:
"I have seen Bradley at work on projects in Walpole Park and have been impressed by his knowledge and commitment. This award is very well deserved."
Now in their third year, the Apprenticeship Awards recognise excellence in individuals and boroughs who are making apprenticeships a success in the capital. The awards are organised by London Councils, the organisation that represents London's 33 boroughs, and this year took place on Monday 30 September at the City Marketing Suite, London.
Eve Malick - a training officer with the Social Care Team in Ealing was runner up in the best manager/mentor section. She was nominated by her apprentice Sasha for helping her enhance her job experiences and organising shadowing with other apprentices in the council. She has gone above and beyond her mentoring role by providing one on one tuition to apprentices to help them pass critical exams and qualifications.
2nd October 2013