Get involved in squishing and sampling apples from the Horsenden orchard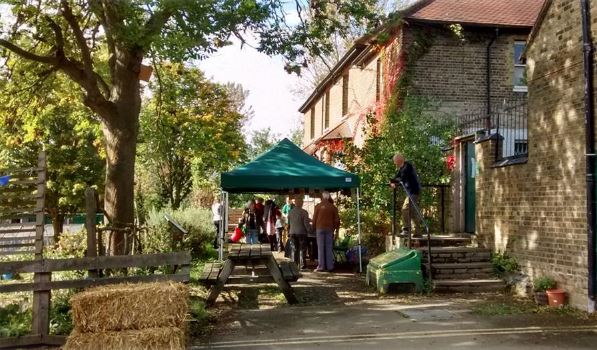 Come along to a traditional apple day celebration at Horsenden Farm, hosted by the Friends of Horsenden Hill.
Get involved in squishing and sampling apples from the Horsenden orchard on 29 September. Enjoy apple games, storytelling and a forest school with apple themed makes. The farm's resident crafters, Bead Sew Crafty, will host children's craft workshops.
This year we have some very special guests! Pupils from Horsenden Primary School will present their fascinating Whittlers' Wood exhibition. This includes children telling their personal stories of planting more than 300 trees on Horsenden Hill last winter, and a stunning display of bunting, all hand drawn and painted by the pupils themselves. These children have made a massive contribution to sustainable woodland on Horsenden Hill and we're delighted to be able to showcase their achievements.
And if that's not exciting enough, Luna, the magnificent Ardennes working horse, returns to the farm to demonstrate her wonderful logging skills. Luna helps with woodland management and seeing her in action is a joy to behold.
As well as all the activities, visitors can enjoy delicious hot food and home baked cakes. For the grown- ups we have our Cider bar – with cider from the Horsenden apples and a unique limited-edition cherry beer, brewed on the farm by resident brewers Beerspoke, using cherries from the orchard. And to entertain you there will be live music and Morris dancers.
All this and more to be announced. Follow the Friends of Horsenden Hill on Facebook for all the latest information.
Find us at Horsenden Farm, Horsenden Lane North, UB6 7PQ, nearest tube: Perivale. The 297 bus stops around the corner. There is free street parking nearby. Please leave your car at home if you can. Parking on site is very limited and priority will be given to Blue Badge holders.
The event is on Saturday 29 September and runs form 11am to 4pm.
September 5th 2018