New 20 storey development for town centre
A new hi-rise development on the Uxbridge Road illustrates how Ealing is becoming West London's premier metropolitan town.
That's according to property company, Galliard Homes, who are marketing the new town centre building on behalf of developers, Frogmore.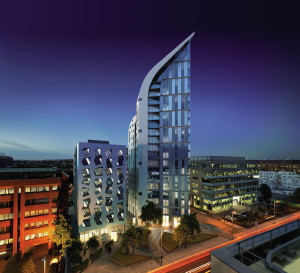 The Apex is a 250ft high, 20-storey tower - described in the marketing literature as 'landmark'.
It will have 127 new one, two and three bedroom apartments and penthouses, complete with a new 111-bed hotel.
It is situated on Uxbridge Road and Craven Road and scheduled for completion in early 2015 - construction on site is already underway.
When complete there will be two major residential buildings, and a hotel, which will be surrounding by landscaped courtyards, public open space, roadways and underground parking.
The eight storey Garden Court apartment building contains six private sale apartments on the uppermost floors, sharing a private 7th floor roofgarden, complete with 27 social/part-ownership apartments on the lower floors.
One of the tallest residential towers in Ealing, Apex Tower will have high-speed lift access and a 20th storey residents-only viewing gallery/observation deck which will provide 'panoramic views over the surrounding cityscape'.
Over the last five years there has been a 14.3% increase in new businesses opening in Ealing and residential property prices have risen by 224% since 1996 (Source: GVA Grimley).
With a new Crossrail Station at Ealing Broadway (Central Line) set to cut City of London commuting to just 18 minutes by 2015, many companies are now taking a keen interest in the area.
Developers including Galliard Homes, British Land and Benson Elliot have all recently acquired sites in the centre as part of Ealing's town centre development masterplan.
The masterplan is creating six new business, housing, cultural and retail quarters, offering offices, homes, shops, cafes and restaurants, including new 20 screen Cineplex cinema complex and a Film museum to compliment the famous Ealing Film Studios.
David Galman, Sales Director at Galliard Homes comments:
"The Apex is the fastest selling development we are currently marketing in West London, with between 2-6 sales per week. The buyers have been end users and investors, all wanting to capitalise on the rapid growth and regeneration of Ealing, which will be further enhanced by Crossrail and the pipeline of new retail, restaurant/cafe and cultural facilities. Ealing town centre is one of London's high-end residential pockets, an centre of affluence and growth that outperforms areas surrounding it."
The one bedroom apartments are from 560 sqft in size, priced from £410,000. Two bedrooms are from 760sqft priced from £430,000 and three bedrooms from 1,100sqft priced from £850,000.
4th June 2013