Following widely reported attack on Muslim women at the station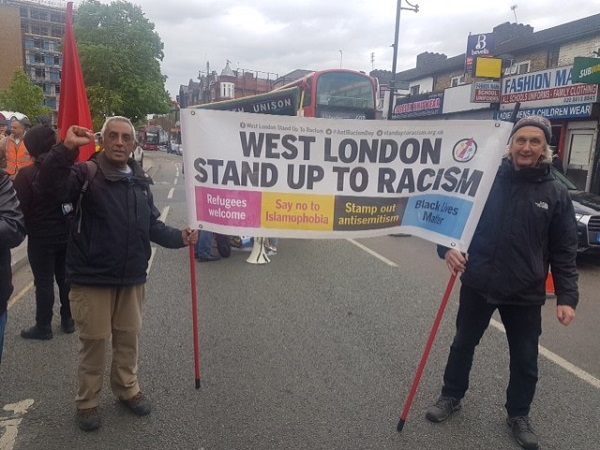 Anti-racist protestors are planning a demonstration outside North Ealing Tube station after two Muslim women were attacked.
A mother and her daughter in their 60s and 30s who were wearing Hijabs are reported to have been verbally abused and physically attacked in front of their young children.

Both were taken to hospital with the older victim suffering possible broken ribs and the younger woman with a black eye, bruising and internal bleeding.

Local MPs, Stephen Pound and Rupa Huq have been contacted by West London Stand Up To Racism to support the protest and Rupa Huq has promised to attend.

A number of Ealing councillors, local organisations, trade unions, churches, Mosques as well as individual anti-racists are being contacted and have already pledged support.
Balwinder Rana, organiser of the protest, said," We blame Boris Johnson for this cowardly, racist attack. After he compared Muslim women to 'letter boxes' and 'bank robbers', Islamophobic attacks have gone up by more than 375%, according to Tell MAMA.
"Recent rise in racism is coming from top of the society, from the likes of Trump, Farage and Johnson. Daily demonising of Muslims, migrants and asylum seekers is having its effect and Muslim women are suffering most. It has also led to attacks like the one on Finsbury Park Mosque, or at the Mosque in Christchurch, New Zealand."
He further added, "We must unite all the right-minded people against these attacks and not let the racists divide us. Thus we urge all people to come and join our protest so we can send out a clear message of unity and show the racists that we shall stand shoulder to shoulder and not let the racists win."
The protest will take place from 6:00pm, Friday, 6 September, in Station Road, London, W5 3AF.
4 September 2019