Jeeta Pankhania broke into the vehicle whilst crew helping elderly patient
A 44-year-old man has pleaded guilty to stealing a mobile data terminal (MDT) from an ambulance called out to help an elderly patient in Southall.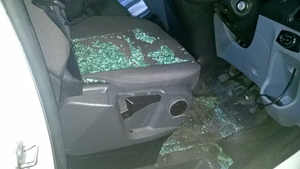 Ambulance crews were treating the woman and returned to find the vehicle, parked in Spencer Street had been broken into.
The vehicle had to be taken off the road and the crew could not be sent to other emergencies until another ambulance was provided.

Jeeta Pankhania, of Homerton Road, was sentenced to four months in prison and ordered to pay £80 in costs at Isleworth Crown Court.
Director of Operations Paul Woodrow said:
''Stealing equipment from our ambulances and cars while our clinicians are treating sick and injured patients is putting lives at risk.Our vehicles hold vital emergency equipment and these actions impact on the care we deliver.There is also the financial cost to our Service of replacing the equipment.
''Theft or damage to our vehicles will not be tolerated and we will work with closely with the Met police to ensure anyone who is caught stealing or vandalising will be prosecuted. These thoughtless crimes are taking our crews and vehicles off the road and slowing down our response to sick and injured Londoners.''
Over the past five years, theft of vital medical equipment from London Ambulance Service cars and ambulances has cost over £85,000.
Thieves have stolen numerous items from our vehicles including: medical gases, paramedic kit bags, drug packs, stab vests, defibrillators, radio handsets, satellite navigation units, personal bags, infection kits, mobile phones and uniforms.
16th March 2016