Charity which encourages young people to make music to benefit from online tribute
On the day of her funeral the family of Alice Gross have chosen a charity that supports and encourages young people to make music as the beneficiary of their online tribute in memory of Alice. A tribute and donation page has been set up in Alice's memory with Youth Music
Alice was a talented musician herself and they felt that this was a fitting way to remember her. They said, "She loved music and loved making music and would have wanted other children to experience this joy."
Alice's funeral will be a humanist celebration, conducted by Caroline Black for the British Humanist Association. It will be full of music, with videos of Alice playing and singing songs she wrote herself. Tributes will be made by her teachers, parents Rosalind Hodgkiss and Jose Gross, and sister, Nina Gross.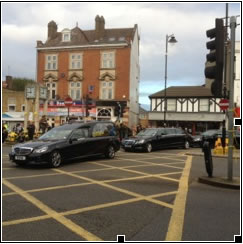 The coffin has been painted by Nina, Alice's Grandmother, Anne Hodgkiss, and family friend, Carole McCourt, with a meadow scene that captures Alice's love of nature, which also depicts her three cats, Lottie, Louis and Pattie and her dog, Peggy.
Mourners will sing 'You are my Sunshine' and further musical tributes will be made by her music teachers, past and present, including 'Home' by Gabrielle Aplin, 'The Call' by Regina Spektor , 'Touch the Sky' from the film 'Brave' and the violin piece 'Ashokan Farewell' by Jay Ungar.
Alice's Grandfather will read the poem 'Surprised by Joy' by William Wordsworth, written at the loss of his own daughter.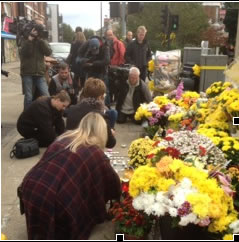 A statement issued by the family today says, "We have been devastated by the appalling circumstances of Alice's death. Alice was so spirited, so present, so vital and so full of promise.
"We find it almost impossible to understand what has happened and that we have to say goodbye to her. We want Alice's funeral to focus on the joy of Alice's life and the joy of having known her.
"We would like to thank everyone for being so kind and supportive. We have been moved by the depth of sympathy and compassion around us, not only from close family and friends but also from the local community.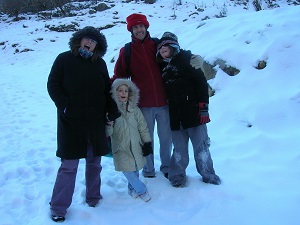 A spokesperson for The National Foundation for Youth Music said, "Youth Music is honoured and grateful that Alice's family has chosen the charity
"Youth Music wants every young person in Britain to have access to music-making. Sadly, many children and young people face obstacles in their lives that make this difficult. Youth Music supports music-making opportunities for over 90,000 children and young people every year, most of whom face significant challenges in their lives such as coping with disability, special educational needs, poverty, rural isolation or living in care. These challenges can often be barriers to accessing traditional music education. Experiencing the joys and fulfillment of music-making by attending a project supported by Youth Music is often a life-changing experience."
Find out more at www.youthmusic.org.uk. Donations in memory of Alice can be made at http://alice.poppymadeleine.gross.muchloved.com/
A public memorial ceremony for Alice will take place on Sunday, 2 November at Greenford Town Hall as an occasion for the family to thank all the local people whose outpouring of support and grief has touched them very deeply.
23rd October 2014