But police investigating Alice Gross murder continue forensic searches
Boston Manor Park reopened to the public today but parts are still sealed off and the police investigation is ongoing.
The park was closed last week following the discovery of the body of Arnis Zalkalns - the key suspect in the Alice Gross murder inquiry.
This morning (Sat 11th October) there was some confusion as to whether the park was still closed.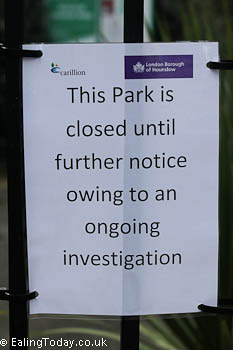 However the gates were open and there were a handful of people inside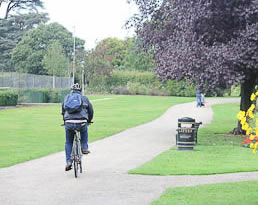 but there was also a heavy police presence in the area close to the canal.
Forensic officers have been conducting fingertip searches and police have sealed off large areas as they continue to hunt for evidence.
It is the largest police operation since the aftermath of the 7 July bombings on London's transport system.
Yesterday an inquest into the death of Alice Gross was opened and adjourned until 29 January.
Coroner Chinyere Inyama sais '' Clearly there are other investigations ongoing, including the police inquiry."
It's not known how much longer police will remain in the park.
11th October 2014