Local teacher gives up career to help children with aids
Related Links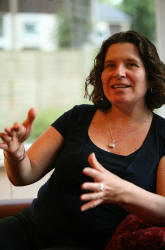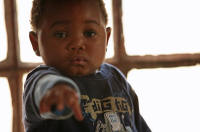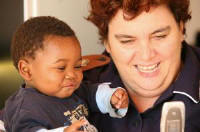 Diane Fick
Khanyile, aged 14 months, with Sister Joyce van der Berg he was nursed back to health at the ThembaCare hospice in Grabouw.
Photos courtesy of Martina Lees
Participate
Sign up for our free newsletter
Comment on this story on the
Diane Fick, 40, will swap her flat in leafy South Ealing for a rugged farm in the mountains outside Grabouw – an hour's drive east of Cape Town - in pursuit of a life-long dream.
The farm is the site of the Thembalitsha Village of Hope, which provides a home to young children who have lost their families because of Aids.
"From my childhood I've had a passion for children and for helping impoverished people," said Diane, who grew up in South Africa and came to Ealing seven years ago.
"Coming to my 40th birthday I started thinking about what I really wanted to do and hadn't done yet."
She realised that she could personally make a difference in people's lives – particularly children. "And I realised that if I didn't do it now, it wouldn't happen."
Grabouw, a town in the heart of South Africa's stone fruit industry, has the country's highest dual infection rate of tuberculosis and HIV/Aids. One in three people of the town's 50,000 residents is living with HIV or Aids.
In 2006 Thembalitsha, a Cape Town-based social care charity, set up a ThembaCare hospice for dying Aids patients in Grabouw.
Their treatment with advanced anti-retroviral drugs has been so successful that 80 per cent of their 320 in-patients, all of whom were at death's door, fully recovered and went on to live normal lives.
More than a third of those patients were young children. But although they regained their health, some of the youngsters had nowhere to go after leaving the clinic.
And so the idea for the Village of Hope was born: a place which these children can be loved and cared for until they are integrated back into their community.
''It's actually a village – a caring community, a village of hope giving hope to a lost generation," Diane said.
"They then feed the kids back into communities to live within their culture, monitored by social workers."
The Village of Hope was founded by Tim and Maz Walker, a British couple from Aylesbury, Buckinghamshire, in October last year.
The Walkers, who have three grown children, left behind their
established lives to practise their Christian faith on the frontline of the battle against Aids.
Diane, also a Christian, plans to join them by the end of this year.
She traces back her passion for working with poor children to her own childhood in Durban on the east coast of South Africa.
"Close family friends of ours moved to a mission station in the middle of remote Zululand. The father was a doctor and he ran a rural clinic there.
"We went to stay with them one holiday and I can remember standing in the middle of the station and thinking, 'This is what I want to do one day. I want to make a difference like this.'"
Diane's job as a teacher at John Chilton School in Northolt, where she worked with special needs children aged 11 to 16 for the last two years, has helped to prepare her for her daunting next step.
She has also taught at Belmore Primary School in Hillingdon for five years.
Now she will be going from a good salary, a comfortable flat and a secure job into the unknown.
"It was a very big moment, handing in my resignation letter," she said.
"But I'm quite determined, and I will not be deterred from my passion, especially considering that I'm a woman on my own and it's a total change of life.''
Martina Lees
* Diane will not be paid any salary at the Village of Hope. She is currently raising her own income from people who commit to give a monthly contribution. This would enable her to serve the children full-time. One-off donations are also welcome, as well as monthly contributions.

August 12, 2009