Planning updates from Ealing Civic Society's AGM
Residents were told last night (19th April) that a controversial scheme to redevelop part of Ealing town centre is one step closer.
Despite huge objections, plans for 9-42 The Broadway W5 were approved by Ealing Council in February and have also now been given the green light by the Mayor of London (pdf).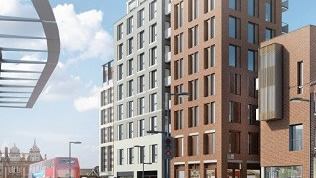 Chairman, Robert Gurd, speaking at Ealing Civic Society's (ECS) AGM, said they 'lived in hope' that the application might still be called in by the Secretary of State. If that was to happen the proposals would be subject to a public inquiry as took place in 2009 with the earlier Arcadia/Glenkerrin scheme. He urged those who hadn't already, to send in objections.
The meeting also heard updates about the Dickens Yard development which is expected to be fully open by 2018, and Ealing's Cinema - likely to take longer. Despite the Council being granted a Compulsory Purchase Order (CPO) in October 2015, developers, Land Securities, are still in the process of negotiating with other property owners on the site.
They're hoping to create a £100 million 'cultural quarter' to include an eight-screen cinema, restaurants, bars and 161 new homes. Whilst largely supportive of the scheme, Mr Gurd said they were very saddened about the loss of the YMCA building (built in 1906) which will have to be bulldozed and the fact that the historic Walpole Picture Theatre couldn't been intergrated into the new plans.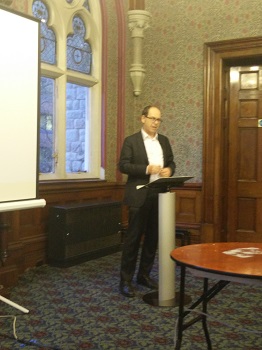 BBC correspondent Rory Cellan-Jones
Guest Speaker for the evening was BBC Technology correspondent and West Ealing resident, Rory Cellan-Jones who engaged the audience talking about his Ealing past, working for the BBC - a job he evidently loves - and technology, past, present and future.
Regaling his experiences with i-phones, drones, automation, virtual reality and electric vehicles, Mr Cellan-Jones concluded that technology wise we were living in very exciting times and 'we aint seen nothing yet.'
Ealing Civic Society was formed in 1967 and will be celebrating its 50 year anniversary next year.
Mr Gurd thanked the outgoing Treasurer, Robin Roads, and says he welcomes anybody who would be interested to take on the role, to get in touch.
The next ECS event will be the John Delafons Lecture (Tuesday 24th May 7.30 Ealing Town Hall) with ECS President, planning barrister, Charles Mynors.
20th April 2016