From September the 83 route will become the 483
A new daytime bus route's being introduced taking part of the journey to Ealing Hospital from the current number 83 service.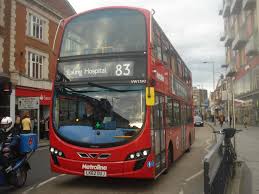 TfL say from September the 483 will run between Harrow town centre and Ealing Hospital, via Northwick Park Hospital, Watford Road, and East Lane.
Buses will go along Wembley Hill Road and join the line of the existing route 83 to Ealing Hospital via Wembley High Road, Alperton, Hanger Lane and Ealing.
Route 83 will run between Golders Green and Alperton station only, with new route 483 taking over between Alperton and Ealing Hospital.
Buses on routes 83 and 483 will run every 8 minutes during the day on Mondays to Saturdays, every 10 minutes during the day on Sundays and every 12 minutes in the evenings throughout the week.
The night service will continue to run between Golders Green and Ealing Hospital but will now be numbered N83.
John Barry, TfL's head of the bus network development, said, "We're bringing in these changes to respond to considerable rises in passenger numbers over the past few years, and indications that these numbers are likely to climb markedly over the years to come.
"We're also creating brand new links to two of the major hospitals in this part of London, and new links to Ealing and Harrow town centres."
Further information on the public consultation and the routes can be found here tfl.gov.uk/buses/83-483-n83.
8th June 2016