New website with info about all the local services
Are you looking for a special carol concert, nativity play or even just the times of the Christmas masses in Ealing - or further afield?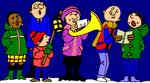 Look no further.
This site here aims to help you find your nearest service quickly and easily. Just type in your town or postcode to find details of services in churches near you.
7th December 2011