A few weapons found during police sweep in W7
Related Links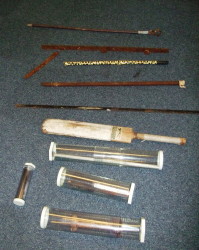 Weapons haul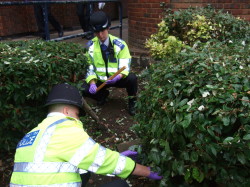 PCSO & PC searching undergrowth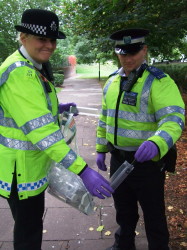 APS Hendy & PCSO Postlethwaite bagging a found knife
Participate
Sign up for our free newsletter
Comment on this story on the
On Tuesday 28th September seven teams from the Ealing Safer Neighbourhood cluster took part in a weapons sweep on Copley Close.
The entire area of Copley Close was searched, from Cornwall Court to Worcester Court.
All grass verges, bushes, overgrown areas, alleyways and stair cases were searched for weapons. Also on hand were the Ealing Homes ASB team who helped in the search and handed outs leaflets to the community informing them what was happening.
Weapons sweeps are all part proactive community policing and are designed to take weapons out of circulation, disrupt local criminality and protect the majority of local law abiding citizens.
Weapons sweeps have been carried out before by Ealing Borough Officers on Copley Close and in the past they have removed several knives and metal and wooden poles. On one occasion early on this year a gun was recovered in an alleyway of Cheyne Path.
A/PS Natasha Hendy who organised the weapon sweep said:
"We have recovered 2 knives, a cricket bat, several metal poles and a club hammer. Ealing Safer Neighbourhood teams are here to detect and deter crime, by taking these weapons out of circulation we are effectively making Copley Close a safer place for residents to live. We are also working closely with the community and out partners to reduce crime and reassure residents."
Borough Commander Andy Rowell said "This is a good example of proactive policing by the Safer Neighbourhood teams working in partnership with Ealing Homes.
Our aim is to reduce crime on the borough including crime were weapons are used. By carrying out weapons sweeps and removing hidden weapons we are disrupting criminal activity and reducing the threat to local residents.
We are here to make Ealing Borough a safer place for the community and we will continue to carry out this type of proactive policing, working in together with our partners and most importantly continue to work and listen to local residents concerns."

29 September , 2010