Figure of man in foggy park is the atmospheric winner
Congratulations to local resident, Sergiy Vyaltsev, who is seen here receiving his First Prize in the Walpole Friends' Photographic Competition.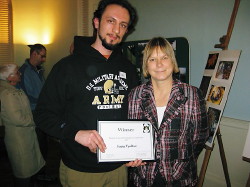 Our MP for Ealing Central and Acton, Angie Bray, kindly gave up some of her time, on the 27th January, to present the prize in front of over 70 members of Walpole Friends and Walpole Residents' Association, at their joint Winter Reception in the gloriously lavish Eating Room at Pitzhanger Manor.
The first prize was a dinner for 4 with wine, generously donated by Simon Kossoff, MD of Carluccio's Ltd.
The competition was open to all and the winning photo was chosen by three independent judges, including Carole Hudson, who is Senior Lecturer in Photography, Faculty of the Arts, Thames Valley University.
Walpole Friends was inaugurated in 2009 with the aim of giving users of Pitzhanger Manor and Walpole and Lammas Parks a focus for working with Ealing Council. We provide a coherent voice for influencing how these historic facilities can be used to best effect, and their role enhanced in the Borough. The Council is bidding for two grants from the Heritage Lottery Fund for Walpole Park and Pitzhanger Manor. Walpole Friends, as a voluntary organisation of local residents and other interested parties, is working in conjunction with Ealing Council towards obtaining these grants for the good of the local community.
If you want to have your say and/or to learn what is happening regarding the bids to the HLF, then joining Walpole Friends is one way of doing that. Their contact details are;
Website: www.walpolefriends.org
email: treasurer@walpolefriends.org
21st February 2010