Cycling velodrome set up to encourage people to take to two wheels
Haven Green was alive with activities last weekend including a cycling Velodrome, King Ramp skateboard workshops and nerve wracking demonstrations, BMX tricks sessions led by Rob Reed, gym displays, bike fix-it and bike hub services. From extreme performances by pro athletes and free participation sessions for all ages, this was an action packed event promoted by Ealing Broadway BID.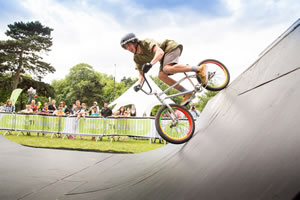 Sitting alongside the sporting activities, Haven Green hosted a vibrant range of stalls and food outlets. Local clubs and businesses displayed a range of information and encouraged attendees to sign up and continue the sporting feeling beyond the weekend.
Ann Hunter, Chief Executive of Ealing Broadway BID said of the event 'Velocity:Ealing was a great opportunity to activate and promote our town centre and local businesses.'
Saturday 21 June had a community focus with everyone invited to come along and have a go for free. Event instructors and staff were on hand to guide participants through the activities. This was an opportunity to experience the thrill and speed of Velodrome cycling or to learn how to bunny hop on a BMX bike.
The competition heated up on Sunday 22 June, with the round 2 of the 'SportPursuit Street Velodrome Series 2014.' The event will involved pre-registered amateur riders competing in a time trial qualification process. The fastest male and female riders were selected to join the televised competition alongside the pro teams in the afternoon.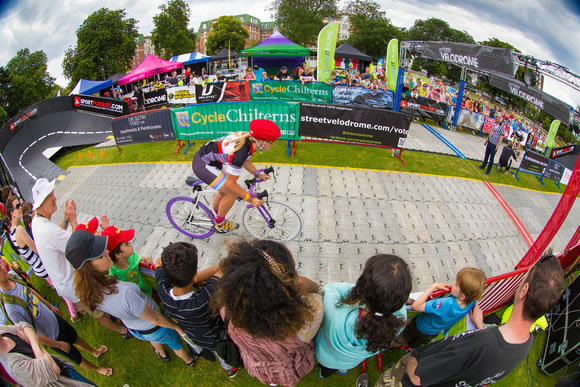 Councillor Julian Bell, leader of Ealing Council, said: "Velocity:Ealing was a great opportunity for local people to get out in their community and enjoy a fantastic day of free sports. This was the first event of its kind in Ealing. The council is constantly working towards improving safety for cyclists and making Ealing a friendlier place to ride a bike, so I hope this event inspires more people than ever to take to two-wheels."

-
June 25, 2014