Students in Ealing are helping others quit the habit
Related Links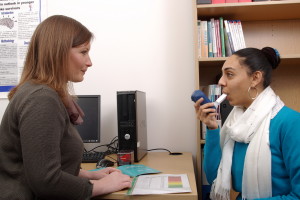 Student advisors - Weronika Suszynska ( on the left) acting as the advisor Krishna Talsania blowing into the Carbon Monoxide monitor
Participate
Sign up for our free newsletter
Comment on this story on the
In the first known scheme of its kind in London student volunteers from Thames Valley University (TVU) in West London have qualified as Smoking Cessation Advisors to help fellow students in Ealing, West London, quit the habit.
Ealing Stop Smoking Service has trained eleven Psychology students at TVU to a professional standard so that they can help their peers quit smoking through a free personalised six week programme.
TVU and Ealing Stop Smoking Service found that students could save £1,000 a year if they stopped smoking ten cigarettes a day, which is equivalent to almost a third of a basic student loan. Research has shown that 63% of smokers in Great Britain want to give up smoking and 22% of people in London smoke, which is the second highest rate in the country*.
Clinics, located at St Mary's Road in Ealing, run on Monday afternoons, Tuesday evenings and Friday lunchtimes so that full-time and part-time students are able to attend them. Student Advisors offer confidential advice and free recommendations on everything from stop smoking medication to nicotine replacement therapy.
Pauline Fox, Health Psychologist and Principal Psychology Lecturer at Thames Valley University, said: 'The University is very proud to be working with Ealing Stop Smoking Service to give students the support they need to quit smoking so they don't need to 'go it alone'. Students are four times more likely to stop smoking if they use our service and as Student Advisors can recommend stop smoking medication at prescription rates, they can do it on a tight budget.'
Rachael Davis, Stop Smoking Facilitator at Ealing Stop Smoking Service said: 'We are delighted to have trained Thames Valley University's hardworking and enthusiastic students as Stop Smoking Advisors. Peer support is really effective in changing behaviour, especially amongst students; this was the catalyst for the project. We are very proud to be working in partnership with Thames Valley University on this project which puts student wellbeing at the heart of the education service that it provides.'
TVU student Caroline Lafarge has been trained by Ealing Stop Smoking Service as an a Stop Smoking Advisor and said: 'As a student myself I understand how stressful exams can be and what it is like being away from home for the first time so to quit smoking can be a big challenge. The training I received from Ealing Stop Smoking Service and the support from TVU has been excellent and I am thrilled to be involved in this exciting project. When a student comes to see me and wants to give up smoking I ask them about their smoking behaviour history, I take a carbon monoxide reading from a detector and set a quit date.'
09 March 2011