17 year old is recognised a Young Achiever for work with St John ambulance
Related Links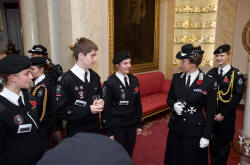 Poppy Richardson (third from right) and other cadets from throughout the UK meeting HRH The Princess Royal
Participate
Sign up for our free newsletter
Comment on this story on the
A teenager from Ealing has been recognised for her work with St John Ambulance in a reception before royalty.
Youngesters from the organisation were welcomed to Buckingham Palace by HRH The Princess Royal at the charity's Young Achievers' Reception.
The annual event honours St John Ambulance Badgers, Cadets and Young Carers who have made an outstanding contribution to the First Aid charity.
Amongst the St John Ambulance volunteers being applauded was 17-year-old Poppy Richardson from Ealing, who is being rewarded as a Young Achiever for her hard work and commitment to the organisation.
Poppy said: 'I was delighted to be recognised as a Young Achiever and invited to the palace to meet Her Royal Highness.'
'Volunteering with St John Ambulance has allowed me to develop lifesaving skills and make a valuable contribution to my community. I would definitely recommend volunteering to other young people.'
Poppy has been St John Ambulance London (Prince of Wales's) District Cadet of the Year since November last year. This important role has meant that she has been involved in the organisation and execution of providing first aid support at several high profile events throughout the Capital including this year's Royal Wedding.
Wendy Human, Head of Youth at St John Ambulance said: 'The reception is a great way for us to recognise the commitment and outstanding work of our young people.
'Poppy has proven herself to be an outstanding individual and I hope that she has enjoyed her visit to Buckingham Palace and meeting Her Royal Highness.'
Find out more about St John Ambulance by calling 08700 10 49 50 or at www.sja.org.uk

8th November 2011