Some exceptional performances from local students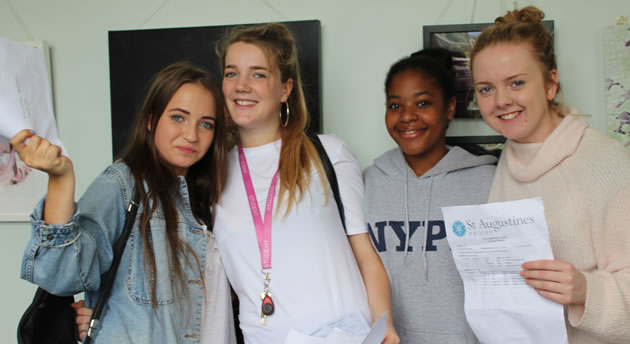 Girls at St Augustine's Priory celebrate their results
At Elthorne Park Sixth Form students and staff are celebrating yet another year of outstanding results, with over half of A Level results at A* or A and three quarters of all grades, including BTEC, at grade B or above.
The top performing male student in A Levels was Alex Andrews, who achieved two A* grades in Maths and Physics along with an A grade in Chemistry. Alex will be going to Edinburgh University to study Maths. The highest performing female student in A Levels was Anisha Bryan, who achieved an A* grade in Art and two A grades in Biology and French. Anisha will be going to the University of Exeter to study flexible combined honours, within the social sciences.
Max Warren also received exceptional results, gaining three A grades in Maths, Further Maths and Physics, and has met his requirements from the University of Birmingham to read Computer Science. Congratulations are also in order to Nuala Gallagher who achieved two A grades and a B in History, RS and Drama respectively and to Tayyaba Iqbal who gained three A grades in Art, History and RS.
Once again, the school did well in applied courses, with Sport and Business students particularly excelling. Six from a class of eight Sport BTEC students achieved triple Distinction* grades, with particular congratulations going to Ben Chevreau who attained D*D*D* alongside a gaining a B in A Level French. Ten of fourteen students studying BTEC Business also gained triple Distinction* grades.
A significant proportion of the school's student have been accepted into university. Assistant Headteacher and Head of Sixth Form, David Eagleton said, "We are thrilled to see Elthorne Park students achieving outstanding success, yet again. I am looking forward to hearing of their continued achievement, both in university or their further careers."
Headteacher, Eliot Wong said, "I am so pleased that our largest ever cohort, following the full range of A level and BTEC subjects, has once again achieved exceptional results. Our sixth formers have done tremendously well, gaining some of the best results in Ealing. I wish them every success in the future."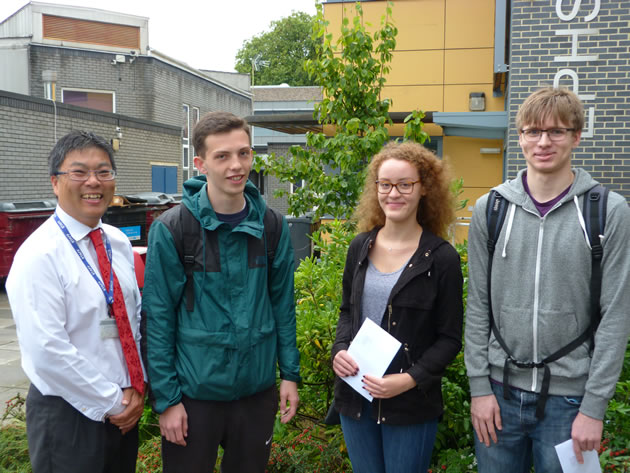 'EWO', Alex, Alisha and Max from Elthorne Park School
Sixth form students at St Benedict's, Ealing, are also achieved some outstanding A level results. Fifteen students gained straight As, including Alvin Lee, whose 4 A*s secure his place at Imperial College, London University, to read Computer Science. Former Head Boy, Matt Carr, has gained 3 A*s and will read History at Durham. Luca Lota's 3 A*s secure his place at Durham to read Physics, and Ben Ainslie will read Veterinary Medicine at the Royal Veterinary College, having gained A*AA. This year, students at St Benedict's gained 70.7% A*-B grades at A level, and 36.1% gained A*-A.
The Headmaster, Andrew Johnson, said: "I am pleased to be able to congratulate our sixth formers, who have achieved such strong A level results, and I thank their teachers for the dedicated guidance and support they have given our A level students. There have been some stellar individual performances this year at St Benedict's, and I am delighted so many of our leavers are now heading to top Russell Group universities."
Sixth formers at St Augustine's Priory also collected a praiseworthy set of A Level results this year. Overall, 92% of grades were from A* - C with 72% being from A* - B. Students have met confirmed offers for ambitious degree courses at university, such as Physics and Astronomy at Surrey, (whose Professor is the world-renowned Jameel Al-Khalili OBE), Biology at Leeds, Biochemistry at Birmingham, Art Foundation at Loughborough, Zoology at Leeds, History at York, Politics and International Relations at Bath and Economics at Royal Holloway. 100% of Year 11 Additional Mathematics students achieved the top grade, A. Interim Headteacher, Mrs Marie-Helene Collins, commented, 'We are delighted with these exceptional results, which are so well deserved, for our wonderful girls. We are enormously proud of our girls and teachers for all their hard work'.
Ealing Independent College had a successful films with strong exam results achieved in spite of the changes to A-Level exams, with both legacy and reformed courses running this year, putting more pressure on both students and teachers. In line with last year, 15% of the grades awarded were A*/A, with well over 50% of total grades were A*/B.
There were some particularly strong student performances in Chemistry, 22% of the students achieving A*/A, in addition to Mathematics with 24% achieving A*A, and 27% achieving A*/A in Economics. In these three subjects 70% of all the grades awarded were A*/B. Arina from Russia is delighted to be going to University College London (UCL) in September to do a joint degree in Mathematics and Economics. She said, "I have thoroughly enjoyed my time at EIC, and am so thankful for all the support and guidance from my teachers."

Principal Dr Ian Moores said: "The College shows consistently strong results year on year, which I believe is due to the approach we take and the learning environment we provide here. Many students who join us with low grades from former schools have left with results they could only have dreamed about.''

February 17, 2020