PM Gallery and House 2011 Listings
Related Links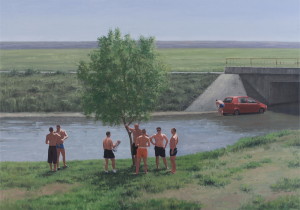 Serban Savu – The Bathers 2010, Oil on Canvas Courtesy David Nolan Gallery, New York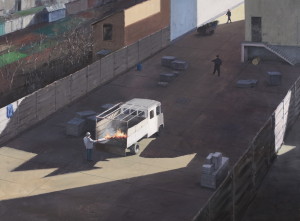 Serban Savu - Perspective 2010, Oil on Canvas Courtesy Galerie Hussenot, Paris
PM Gallery & House
Walpole Park
Mattock Lane
Ealing
W5 5EQ
Participate
Sign up for our free newsletter
Comment on this story on the
Under the Radar
Paintings by Serban Savu
Date: Friday 25 March 2011 – Sunday 8 May 2011
In his first ever solo exhibition, Romanian painter Serban Savu shows new and recent works examining the tensions present in modern Romanian society. His distinctive landscapes, populated by figures who seem strangely detached from the post-Communist world around them, offer a portrait of a country coming to terms with its past, present and future.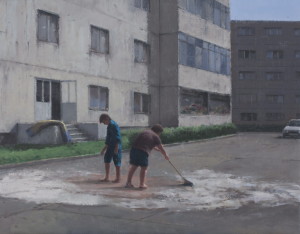 Serban Savu – Two Neighbours 2010, Oil on Canvas Courtesy Plan B Gallery, Cluj/Berlin
This exhibition is presented in association with the Romanian Cultural Institute, London.
Opening Times:
Tue-Fri 1pm-5pm & Sat 11am-5pm
Summer Sunday opening from May 1pm-5pm
FREE ENTRY
Gallery Tour - Saturday 16 April at 2pm
Please join us for an informal tour of the exhibition with exhibiting artist Serban Savu, and curators Simona Nastac, of the Romanian Cultural Institute, and Matt Price.
Free – just turn up
Phone: 020 8567 1227
Email: Vanessa Moore at: vmoore@ealing.gov.uk
www.ealing.gov.uk/pmgalleryandhouse
April 7, 2011