Cut price gourmet food available on Thursday evenings
The University of West London's answer to fine dining, Pillars, is opening its doors to the public one evening a week.
Pillars will now be open to the public on Thursday evenings (from 6th October) during term-time in addition to serving the public four days a week during lunch-time.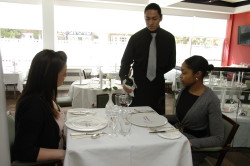 To celebrate the evening openings, Pillars will welcome customers with a menu filled with fine dining cuisine, and music provided by students from the University's London College of Music.
Pillars is the University's London School of Hospitality and Tourism award-winning training restaurant and it is a specially designed educational environment where students learn the art of fine service and culinary practices.
The restaurant is run by the University's chef lecturers and the kitchen by chef lecturers who give Hospitality and Tourism student's hands-on experience on fine dining.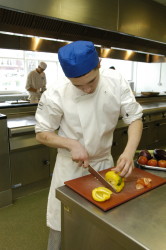 Customers will experience the art of service, as well as the opportunity to order a variety of different cuisines with themed events and menu changes.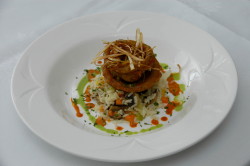 Commenting on the Thursday evening openings of the Restaurant, Professor David Foskett, Head of School at the London School of Hospitality and Tourism said:
'We are delighted that the restaurant is opening on a Thursday evening during term-time. The restaurant already has a great reputation for excellence and we are looking forward to showcasing further to the public the immense talent of our students.'
You can book a table by:
e-mail pillars@uwl.ac.uk or call us on 020 8231 2200.
28th September 2011