Philip Goodeve-Docker died on charity trek
The inquest into the death of Philip Goodeve-Docker from Ealing has been told that he was found frozen in a seated position, covered in a layer of ice after being caught in a storm in Greenland.
The thirty year old events organiser was on a charity trek in Greenland with two other explorers. They were only on the second day of a 400 mile expedition on Friday 26th April this year when they were hit by a storm called a 'Piteraq'. In the early hours of Saturday 27th April winds on a glacier blew away the tent Mr. Goodeve-Docker was sharing with Roan Hackney, aged 31, and Andrew Norman, aged 33.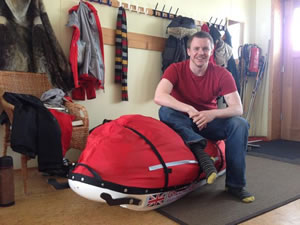 Mr. Hackney told the inquest that they were aware the storm was coming and set up camp believing they had the right equipment to deal with the conditions. However, the storm quickly escalated and soon drifting snow and ice was crushing them inside their tent. The temperature fell to minus 70C and winds got up as high as 160mph. Soon after 5.30am all the tent poles had snapped. Visibility outside at this point was 2cm and they decided to call for emergency assistance.
They called for help using a satellite phone but were told that conditions were too severe for the helicopter to take off. Mr. Goodeve-Docker spoke to his parents on the phone and they tried to persuade the authorities to bring the rescue forward.
The three men huddled together for warmth and tried singing and calling out each other's name. On the morning of 28th April the men had lost consciousness but Mr Hackney had thrust his red gloved hand above the snow to mark where they were for any rescuers. At around noon the helicopter arrived but Mr. Goodeve-Docker was already dead. His colleagues were suffering from severe hypothermia, shock and frostbite.
The Coroner, Andrew Bradley, told the hearing that he knew the Goodeve-Docker family personally and that the case was one of great sadness to him. In his summing up he said, "Never was a verdict of misadventure so appropriate."

August 20, 2013