Philip Goodeve-Docker freezes to death in Greenland storm
A man from Ealing has died after being caught in a snowstorm on a trek in Greenland.
Philip Goodeve-Docker, aged 30, was found dead this weekend by the Greenland police who were leading a rescue attempt after they received a distress signal from his party.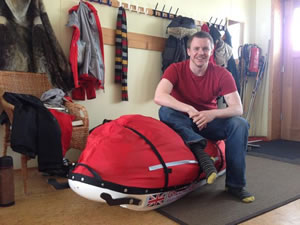 The group of three explorers were only on the second day of their 400 mile expedition when they were hit by a storm called a 'Piteraq'. On Friday night winds blew away the tent Mr. Goodeve-Docker was sharing with his companions on a glacier. They radioed for help but rescuers were not able to reach them until the following morning. A helicopter found the group around 120 miles onto the ice-shelf but Mr. Goodeve-Docker was already dead. The other members of the team, Andy Norman and Roan Hackney were suffering from frostbite and shock. They are returning immediately to the UK.
Chief Inspector Paul Pitersen of the Greenland Police, who led the rescue, said that the group were unlucky to be in the wrong place at the wrong time. He added, "It seems that they were caught up in a severe storm which is known here as a Piteraq, with strong winds and snow. It is quite rare but can happen at this time of year on the glacier. Their tent was blown partially away and they were exposed."
The family have issued a statement on Facebook saying, "To our son, brother and friend, we are so glad that you were on your adventure and expedition that you had wanted to do for so long. You will be unbelievably missed and your memory cherished. xx"
May 1, 2013